So, the hubby and I just celebrated our first wedding anniversary this month.... and I still haven't blogged about our proposal, wedding preparations, wedding etc. -_- #badblogger
But today I am going to switch things around and talk about something wedding-related too! My bridal shower. :D It all started from this
#hensdothrowback
hashtag on Dayre (follow me at
@revelinme
!), and I started going through my photos and started feeling all giggly and nostalgic haha.
To be honest, my ideal hen's do is a girls' trip
ala
an island getaway! A few days of girlie time, cocktails and drinks, frolicking in sun and sand... I can't imagine anything better before being a Mrs! However, this little fantasy of mine is not really a possibility because most of my girlfriends are based overseas/ outstation. As it is, I already feel very grateful and indebted for them to come back all the way for my wedding-- I just can't possibly ask for them to come back for even longer/ for a separate trip just to accompany me on a holiday!!
So Jing and Teeny asked me what I want for my hen's night/ gathering, and I specifically stated that I don't want a wild night out LOL. My wedding ceremony was on a Sunday morning, so the only way I could have all my girlfriends present at the hen's gathering was the day before-- hence wild drinks the night before the wedding is definitely out of the question. Also, it's not really me la! I still want to remember what happened at my hen's night, haha. So I told them my priority is really to catch up with all my girlfriends, especially when I haven't seen some of them in ages!
So the only thing I know about my bridal shower is that it will be in the afternoon on the day before the wedding ceremony! And that Jing and Teeny were in charge. :P
At the 11th hour, my sisters asked me to wear a yellow dress for the outing. I was quite preoccupied with all the wedding loose ends then, and really had no time to look for a yellow outfit. Since I don't know the bridal shower theme, my plan was to just show up in a white dress 'cause you can't go wrong as a bride wtf. This caused me to get quite worried about the theme also-- 'cause why need to wear yellow haha. Don't tell me it's Minion theme wtf.
Anyway, on Saturday morning (the day before the wedding!), we had a mini rehearsal-- which is more to familiarize my flower girls and page boys with the venue, as well as to test the timing for the march in.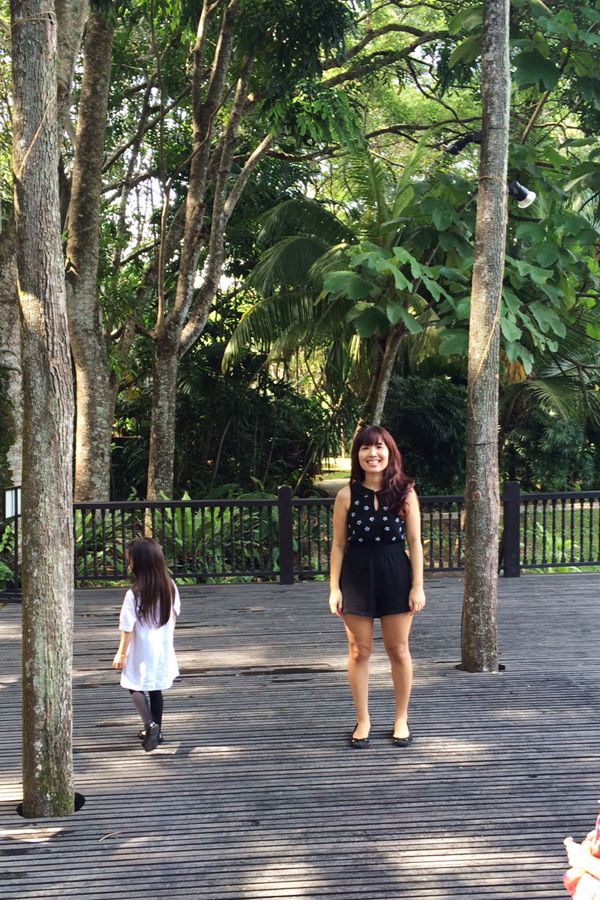 Feeling all surreal and happy at our ceremony site. It has always been my dream to get married under a canopy of trees!
I expected it to finish quite quickly, 'cause how long can a march-in take right? So that will leave me with plenty of time to go home and get ready for my bridal shower.
*cue bouncy steps and wide smile*
BOY WAS I WRONG. When you add 5 kids together (three girls who are about 3 years old, and 2 hyperactive boys)-- you get havoc. But no regrets whatsoever in doing a rehearsal, because *jeng jeng jeng* during the rehearsal, I found out that KS, one of my page boys, is TERRIFIED of dogs!!
And Rocky was walking down the aisle with us. -_-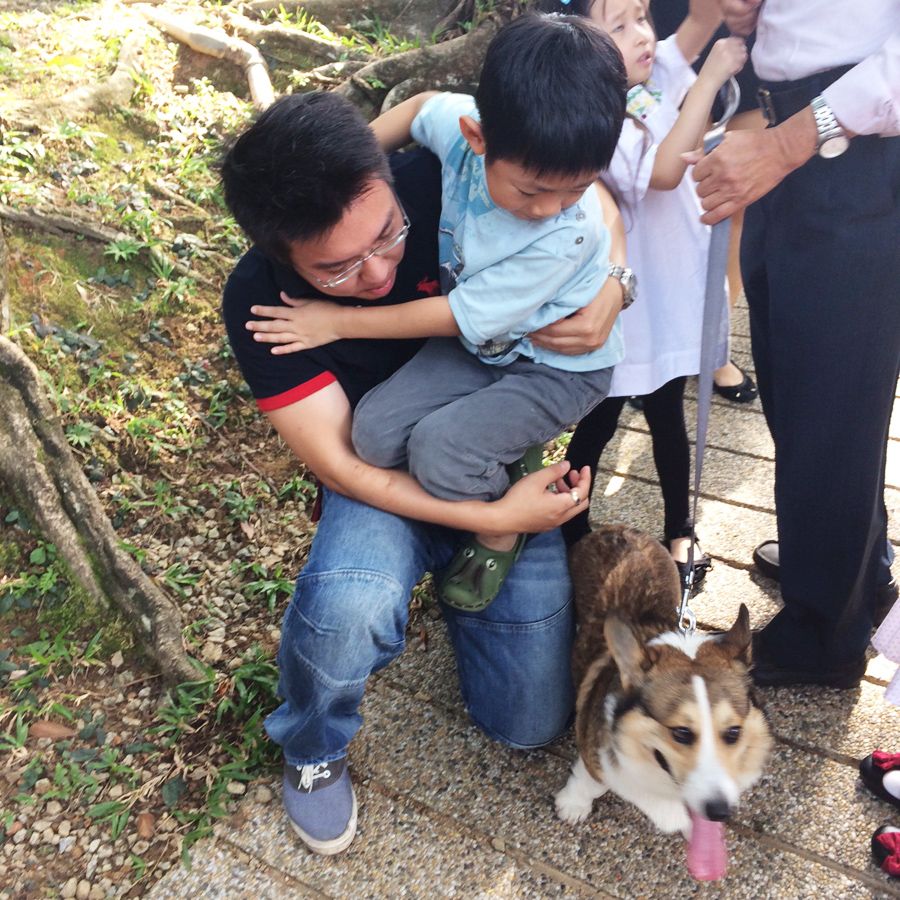 He was so afraid that he can't even be on the same ground as Rocky!!! He keeps on leaping onto people's laps despite our coaxing that Rocky is very tame and friendly.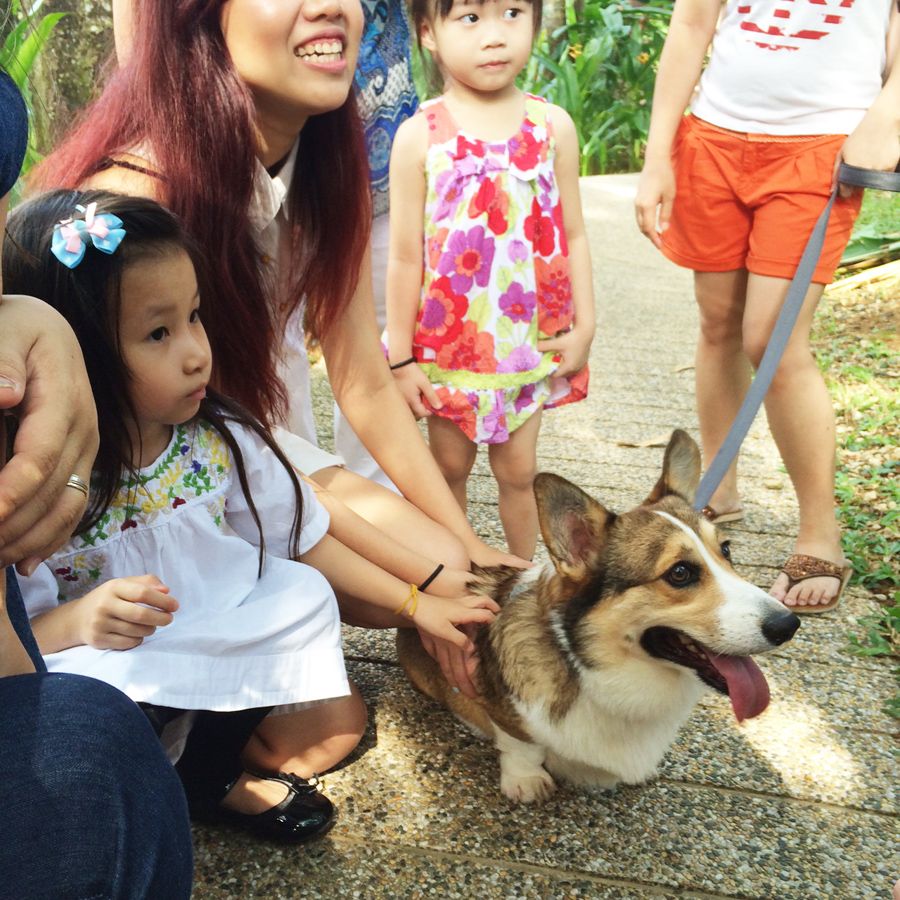 My flower girls trying to convince KS that there is nothing to be scared of, haha.
Of course now I find it really funny hahaha. But at that point of time, I was literally sweating buckets!! My back-up plan was to axe KS, and just have one page boy only, haha.
So this whole thing ended up delaying me tremendously, and I was super duper late to my own bridal shower. T____T
But when I arrived, I WAS BLOWN AWAY.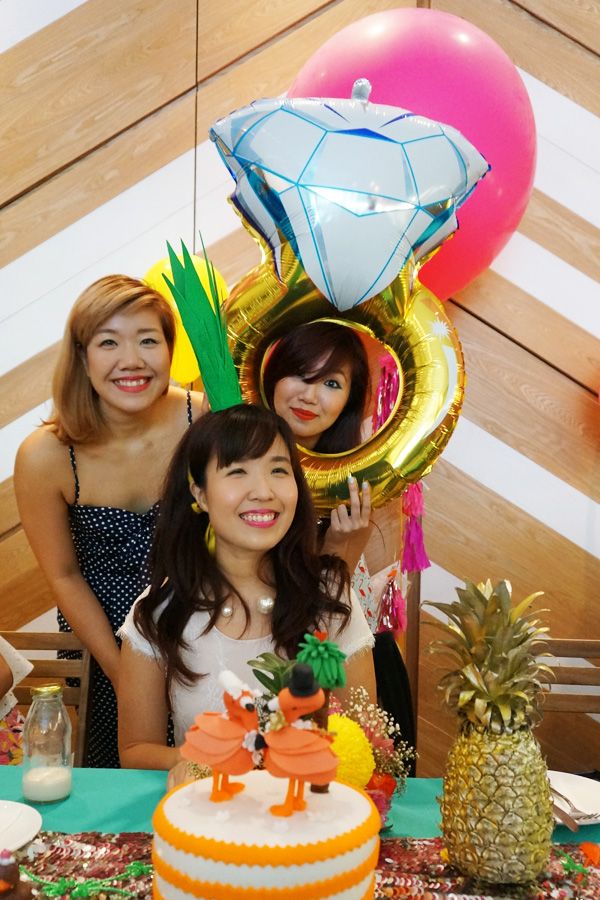 Can you see that I am a little teary-eyed here, haha.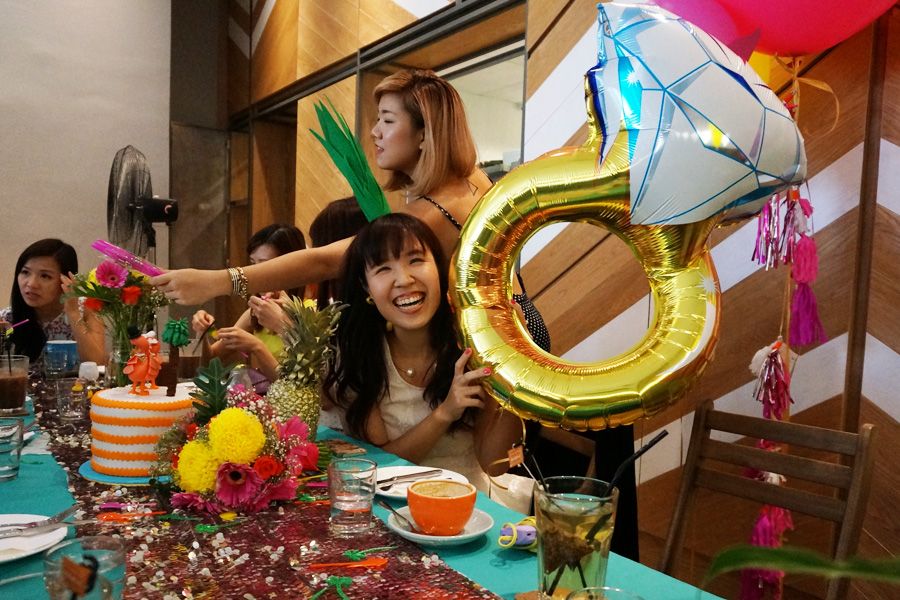 They threw me what Teeny coined as a "Glam Palm Spring" themed bridal shower!
Dashes of hot pink (my favorite color); my favorite tropical elements like flamingoes, pineapples, palm trees; sequins; giant balloons; wild-colored flowers... I cannot think of a more perfect theme to suit me!!! Heck, I wouldn't even have been able to think up of this perfect theme myself!!!
A bouquet of flowers for ME! And a gold pineapple (that Teeny painstakingly spray-painted).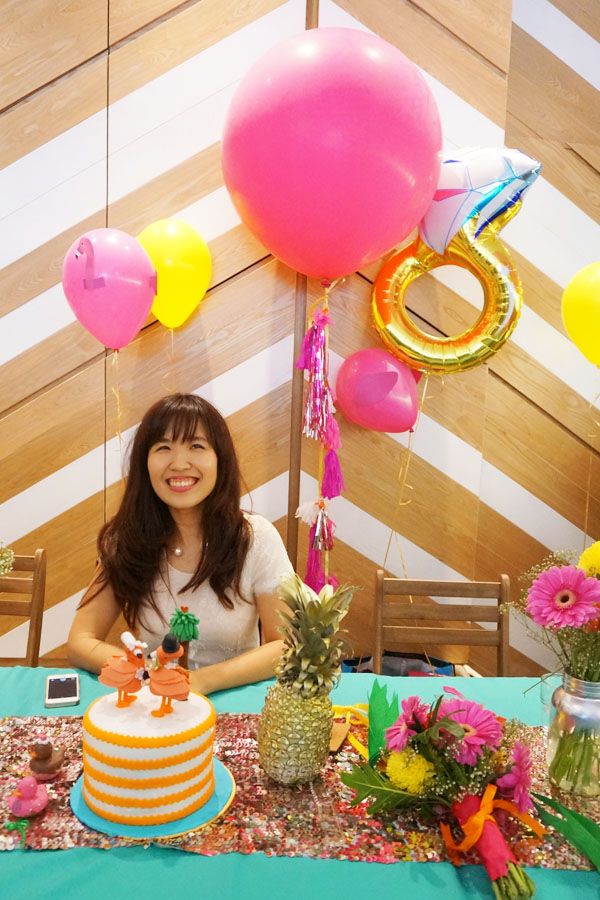 Still in shock. Everything was just BEAUTIFUL. And HAPPY!!
I LOVE HAPPY!!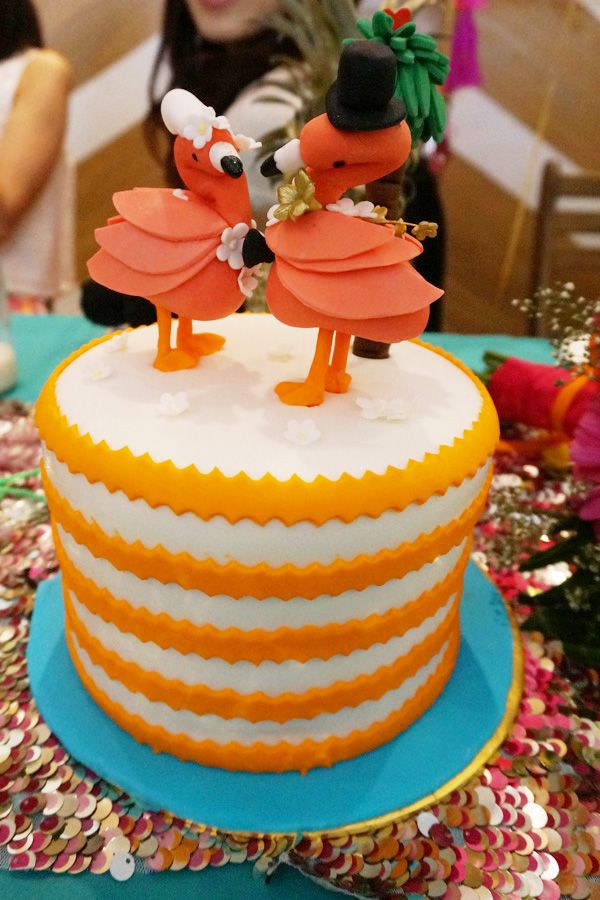 This quirky flamingo bride and groom cake is LOVE. Can you spot the top hat detail and the little bridal bonnet? Haha. I love it so so much! The hubby would have never allowed us to have a flamingo wedding cake, but now I have MY OWN!! Muahaha.
Colorful sundae and palm tree toppers. And PINEAPPLE STRAWS.
Bloom baby bloom!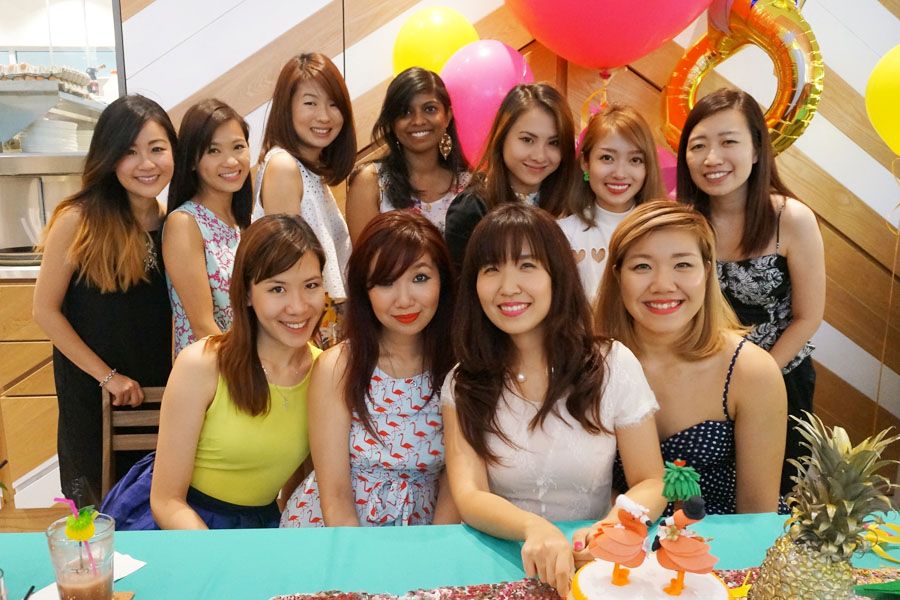 And the best part of the day-- being surrounded by my favorite girls!
And all of them came in tropical-inspired outfits too! Just major love for every one of them. :D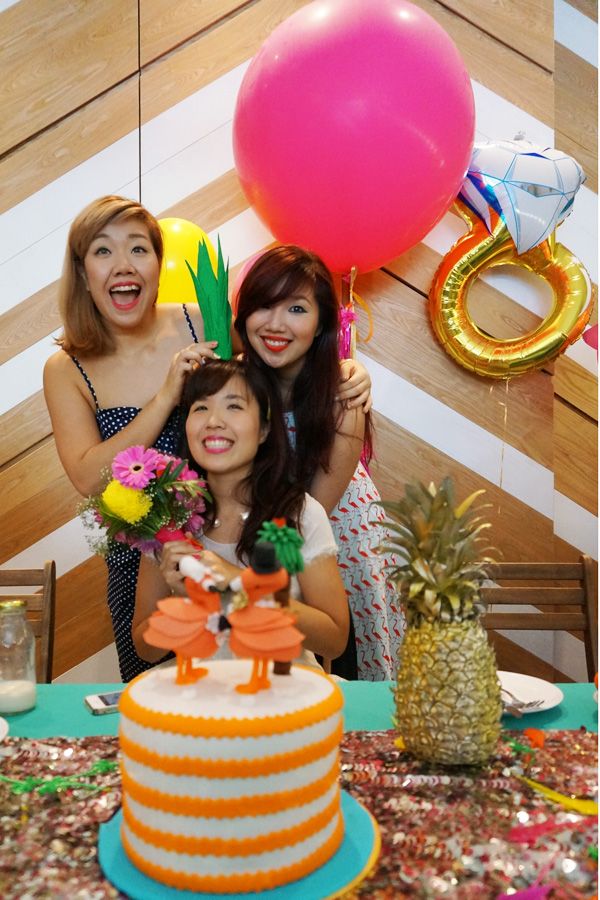 And I found out why Jing and Teeny wanted me to wear yellow. -_-
They made me a pineapple crown, so if I wear yellow with the green pineapple crown (they did specify their preference for a LONG yellow dress)-- I will look 100% like a pineapple. -___________-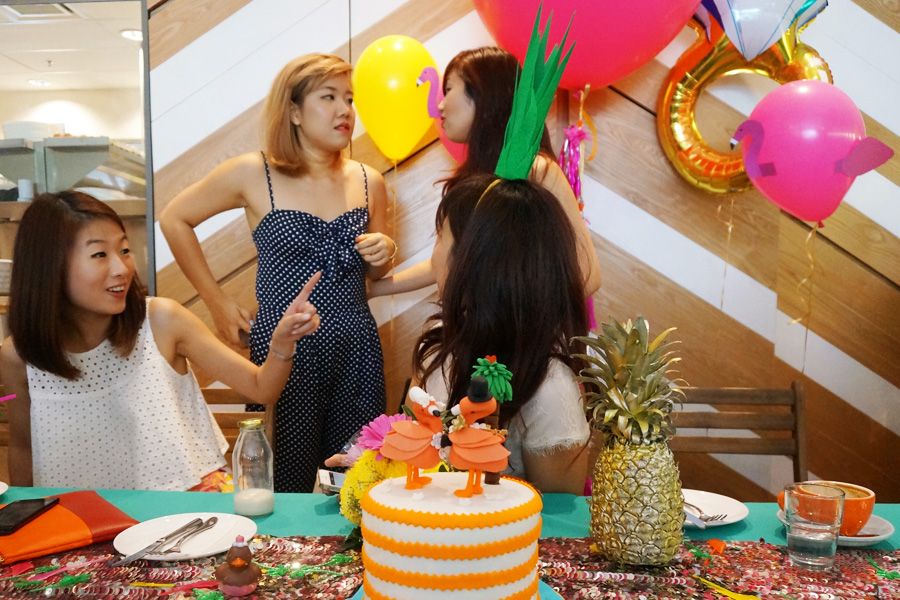 Weary about what other costumes they have up their sleeves, hahaha.
Alas, I was very sporting to wear the pineapple crown throughout k! Although I did look more like
Sun Wukong
HAHAHA.
Still can't get over these adorable straws. :D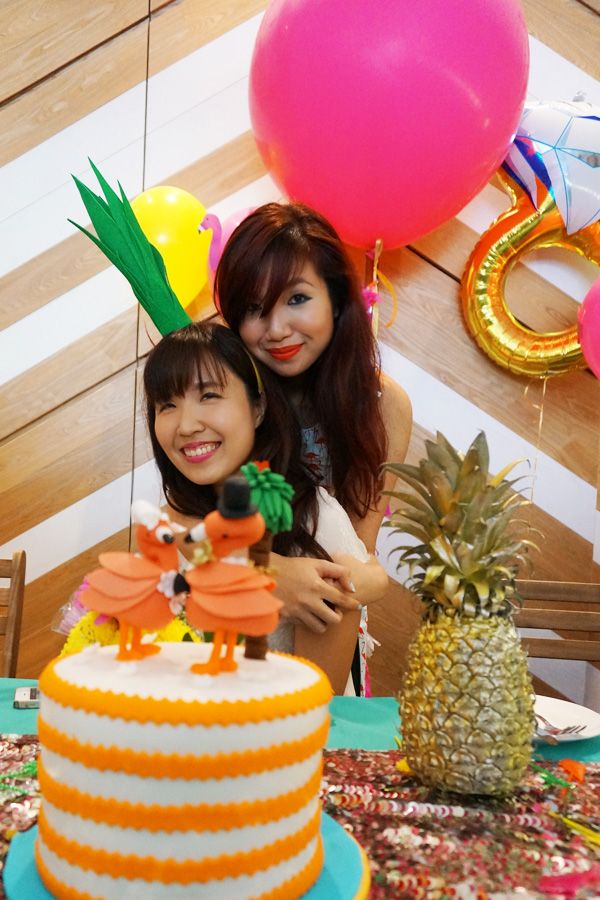 With one-half of my loves!
Can you see that the balloons are actually flamingos? HAHAHA. Teeny is too creative!!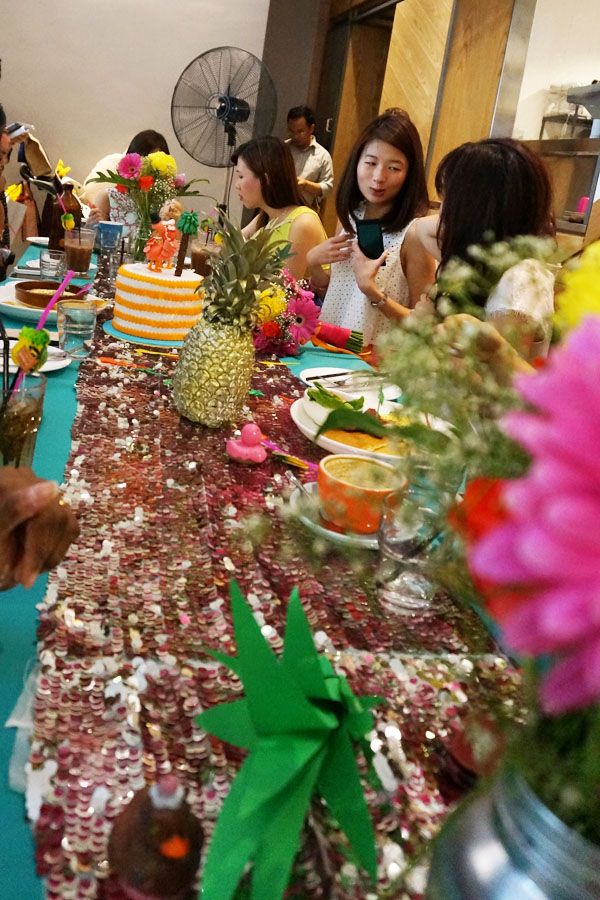 Another view of the table setting. This ombre sequin table runner is EVERYTHING.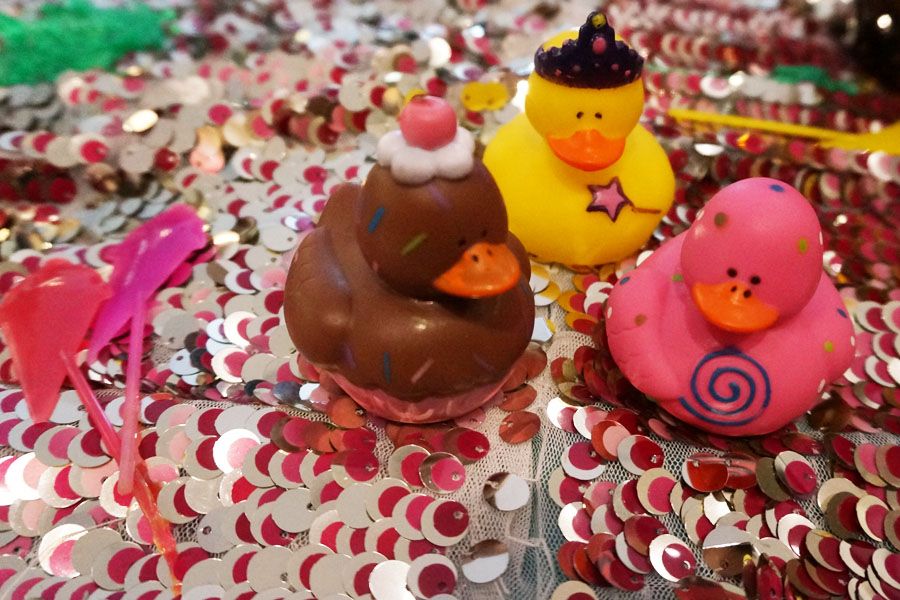 Rubber duckies casually hanging out amidst shiny sequins!
The mastermind behind all this ADORABLE goodness. She even got the tassels on the balloons-- something that I have admired on Pinterest and off-handedly mentioned to her before.
If you want to hire her for party-planning, please contact me wtf. I will charge her a minimal agent fee HAHA.
Tropical outfits yo!
Audrey
in palm tree prints and Jing in flamingo prints.
*hearts in eyes*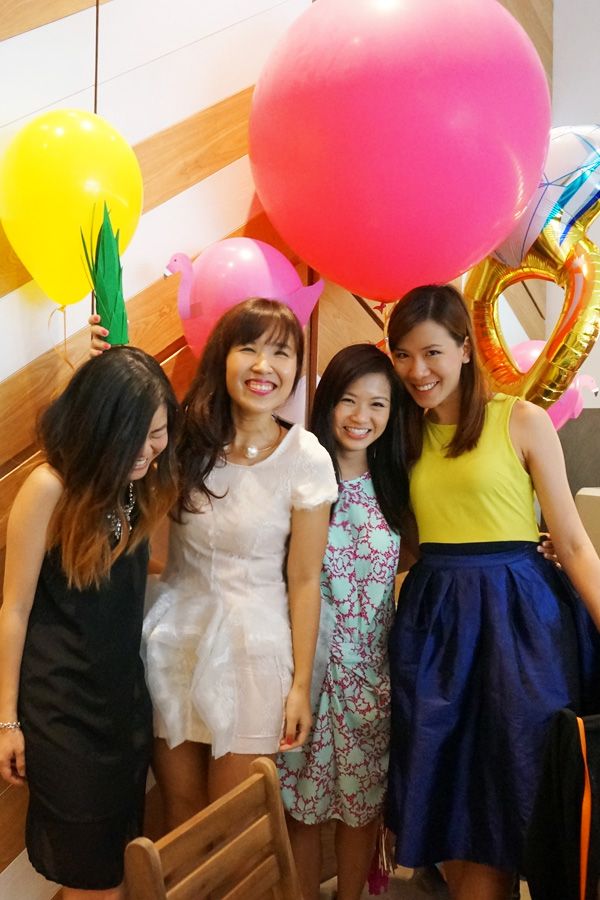 FLAT HAIR FLAT REUNION!! A faceless Jaclyn, me, Smalls, and Kit Mey! My old readers will definitely remember us.
*teary-eyed*
Selfie with Suet!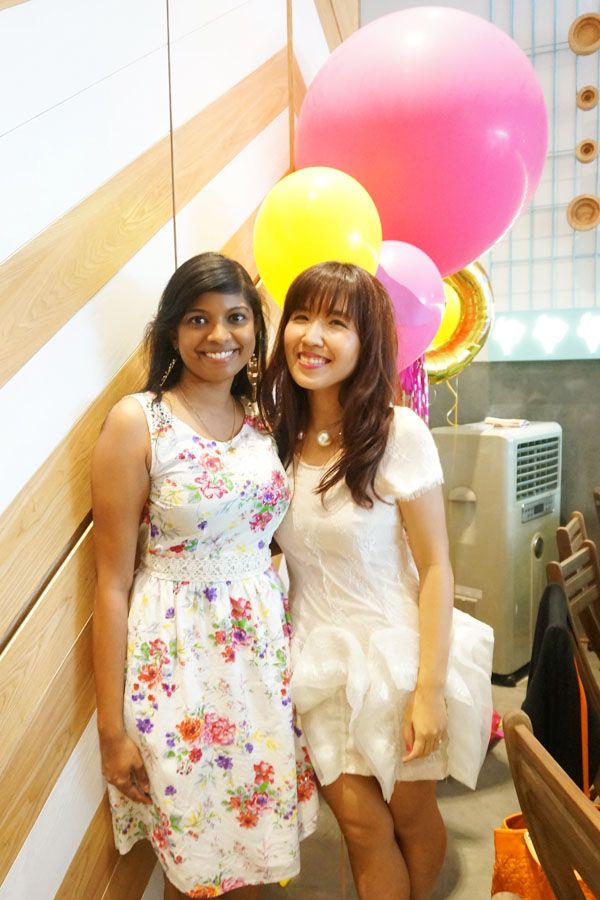 One of my high school best friend, R, who is back from Langkawi (where she is posted as a doctor) just for my big day!
Jing and Ally! This Ally damn funny, the moment she saw me, she told me,
"Hui Wen! I am wearing YELLOW and PRINTS for you!"
while pointing at her shorts, haha. Very tropical, dahling. :D
My bridal shower outfit: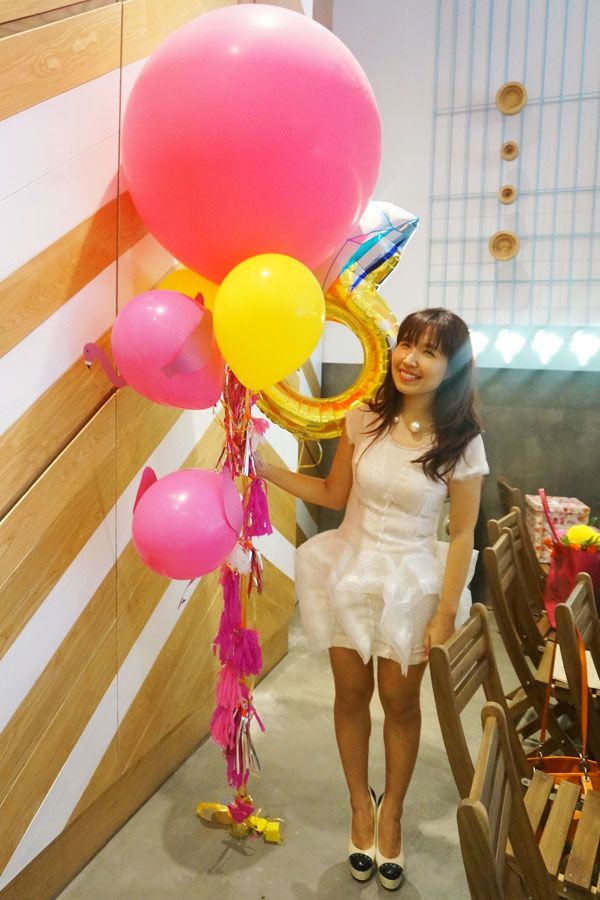 White lace/ organza 3D peplum dress: Korea
Pearl necklace: Korea
Patent pumps: Wittner, Australia
Luckily I insisted on wearing this white dress! 'Cause I didn't know what other occasion I could wear it to, haha. Imagine if I have worn a yellow dress!! Then I would have fallen into my sisters' trap wtf.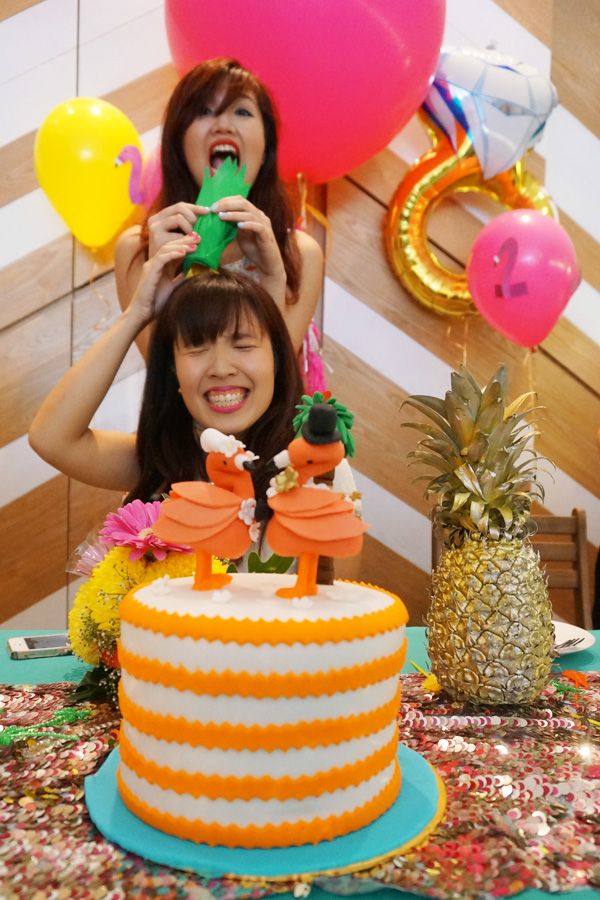 Pineapple got eaten wtf.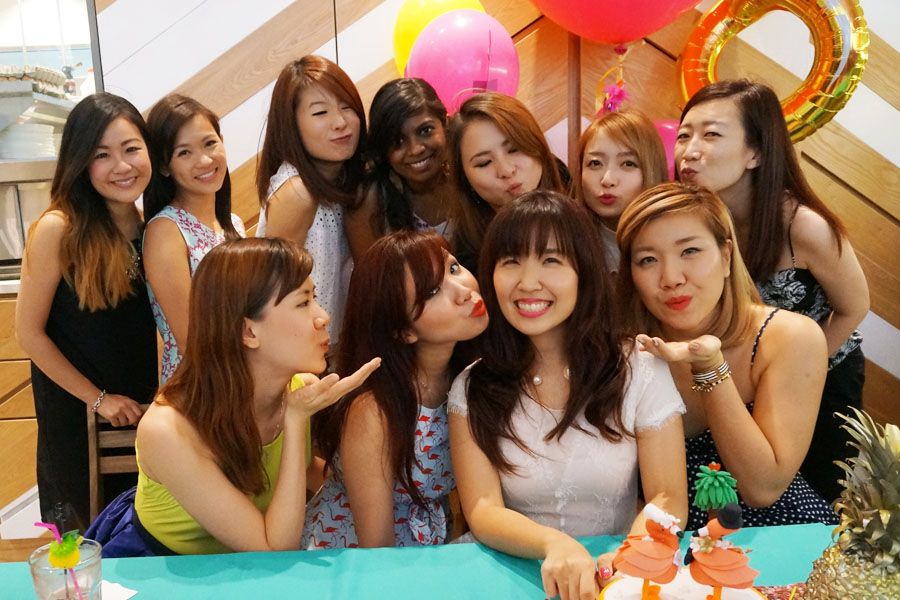 Top (L-R): Jaclyn, Smalls, Ally, Ran, Suet, Aud, Ean (my sister in law!)
Bottom (L-R): Kit Mey, Jing, me, Teeny
Once again, thank you all my bestest girls!!! It means the world to have you all with me throughout my journey in life. :)
One more bridal shower for my wedding reception next year k? HAHAHA.