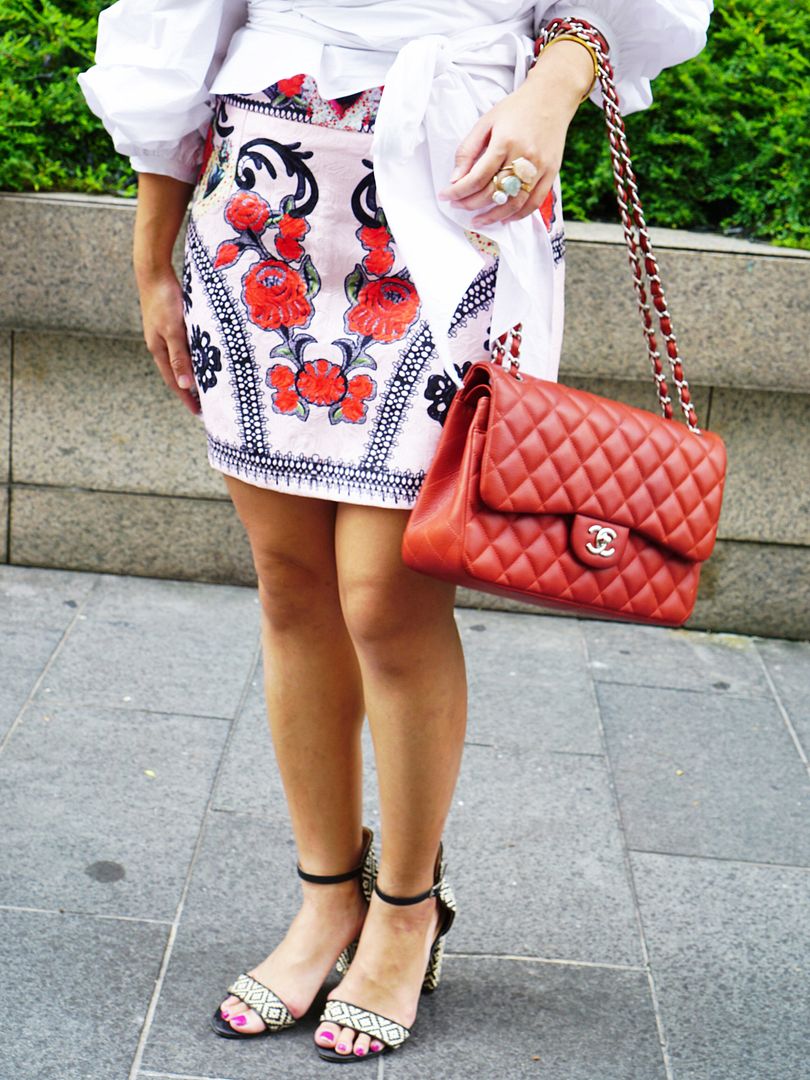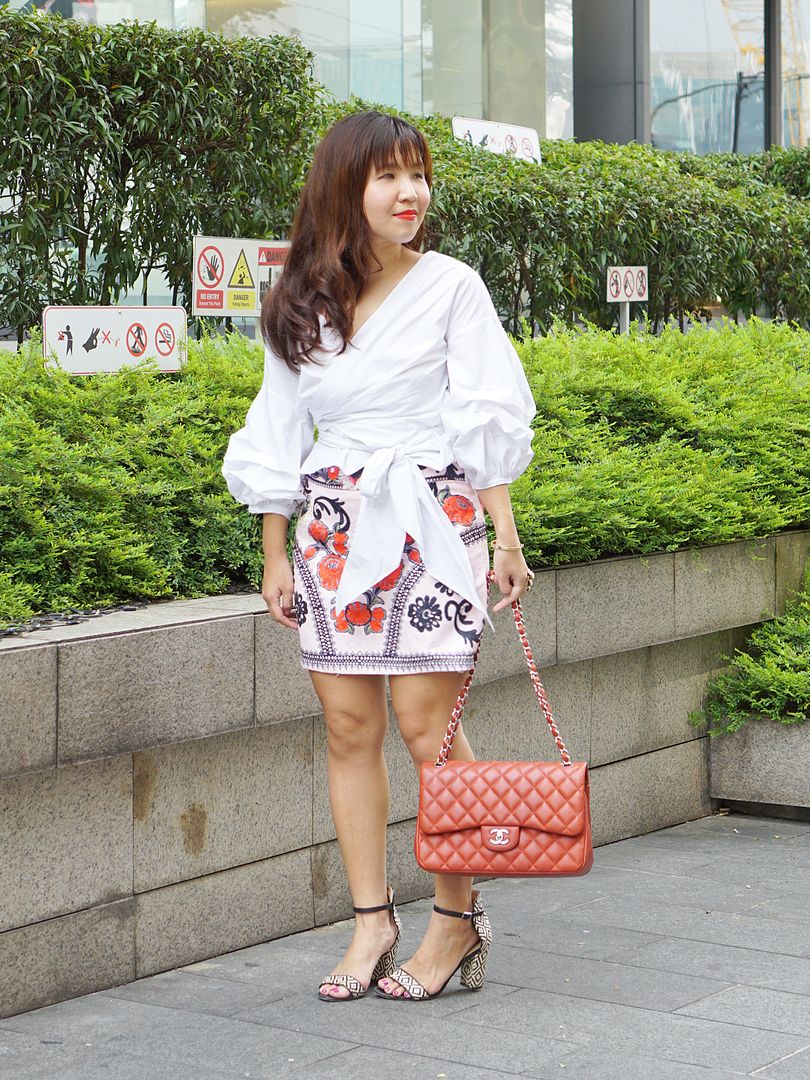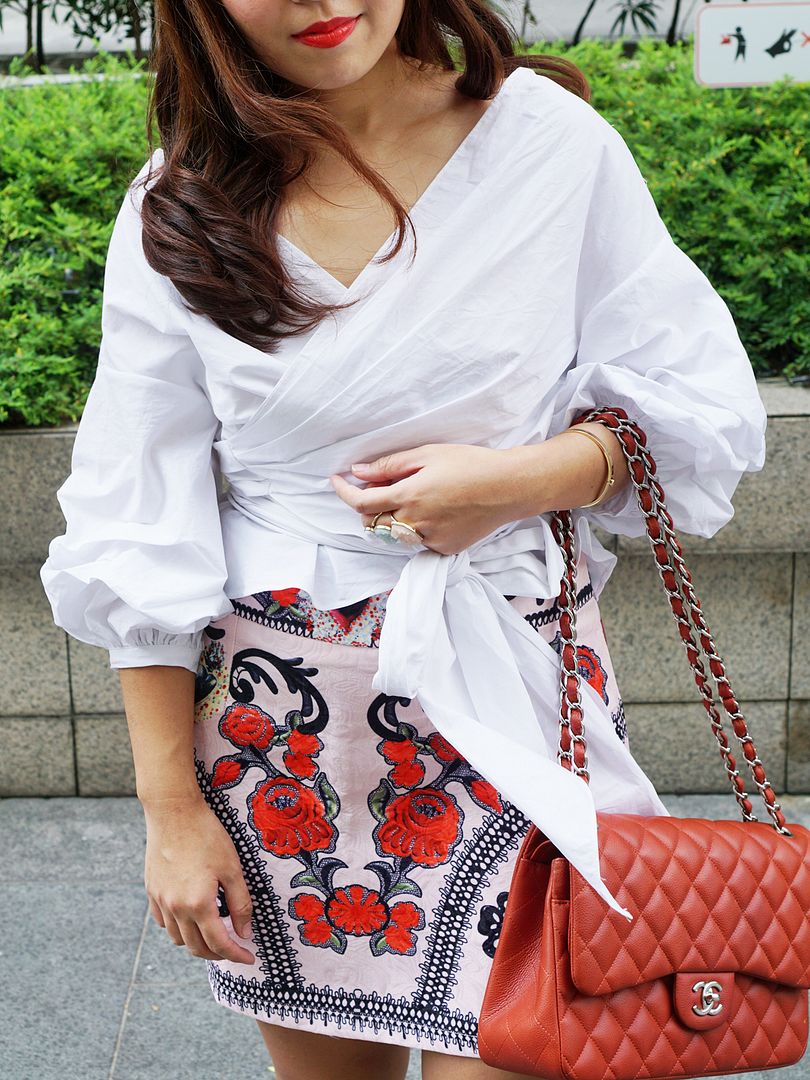 Balloon-sleeved wraparound blouse: AZORIAS
Brocade skirt: Guangzhou
Gold bangle: Kate Spade
Ring: H&M
Ikat woven heels: Zara
Bag: Chanel
I am always on the lookout for unique white shirts/ blouses, 'cause white tops = best basic ever. This one checks ALL the right boxes for me-- feminine, comes with a twist, versatile (it can be worn on and off the shoulders), and it if even formal enough to be worn for black-tie events (imagine it with a full maxi skirt and a strand of pearls)!
I actually think this blouse is very Caroline Herrera-- I LOVE. It is currently open for
back-order on AZORIAS
, so don't miss out on it!
************************************************************************
On the same day, hubby and I visited
Huckleberry Food & Fare
at Plaza Damansara. I have been there once, and really enjoyed the food, so I thought I will bring hubby there (his first time), and also capitalize on the Entertainer app's buy-1-free-1 promo!
The
Entertainer app
is an app which offers buy-1-free-1 promotions for all participating outlets, spanning across F&B, beauty services and even hotel accommodation-- for 1 whole year. So it is best for you to purchase the app at the beginning of the year so that you have 1 whole year to use up all the promotions haha.
I got the app early this year, and honestly, it has brought me fairly good bargains at some of my favorite restaurants. BUT, I notice that some of the more popular restaurants actually don't honor the promotions. >:(
For example,
Breadfruits
in Sri Hartamas, told me that "the (promo) service is unavailable" when we visited on a busy Saturday morning. This actually doesn't make sense, 'cause from my understanding, the app requires a pin number from the user (me) and a pin from the restaurant (the merchant/ restaurant) to "unlock" the promotion. It doesn't require any "service" or "connection" from Breadfruits' end as the pin number is entered into the app on
my
phone.
Another instance, I went to
Ante
in 1 Utama, and we were told that the promo is only applicable specifically on the mains section of the menu-- which is a total of 4-5 types of ribs/ steaks, although there are other mains options such as pizza, pasta, burgers, sandwiches etc. in the other sections of the menu. This was quite annoying for me 'cause I actually went there to have pasta. And under any normal circumstances, a burger or pasta would be considered mains right?
Also, there were instances of of staff heaving huge sighs when I flash my Entertainer app discount-- like I am a huge annoyance. I have experienced this with some San Francisco Coffee and Chatime outlets, to name a few. Thanks, but I don't really appreciate being treated like a nuisance or a cheapo for using a promotion that
I paid for
.
With that being said, there are still excellent promotions being found on the app. In this case, I would like to commend Huckleberry Food & Fare for being extremely accommodating and laid-back when I wanted to utilize my buy-1-free-1 promo. They literally told me that I could use the promotion on ANYTHING on the menu-- despite having different sections in the menu like Mains, Pastas, Breakfast etc (just like Ante). They also took my order and applied my promotion with a huge smile on their faces-- and not treating me like a second class citizen. So yes, huge thumbs up for Huckleberry!!
Anyway, like I have mentioned, I still think it is worthwhile to get the Entertainer app (if you like to eat out often). But I do hope that the management of the app can keep tabs on the participating restaurants to make sure everyone actually honor the promotions given-- with a smile on their faces.