Hi everyone! Someone asked me recently:
"Where do you get inspiration from on what to wear when traveling to a particular country, during a particular season?"
Hence, today, I will share some tips for travel outfits! :D
I do love to dress up on holidays; in fact, planning holiday outfits is probably one of my favorite things to do, haha! Often, it builds up the anticipation to your trip, and if you read on, you will find out why it teaches you to be disciplined in planning your trip too. ;) Whilst comfort is important during travels, I have to confess, I will never be a T-shirt and jeans girl. So it is really about balancing looking cute and being at ease on your holiday. :)
I have to clarify though, I put care into my holiday outfits not 'cause I am "doing it for the gram" (i.e. for the sake of having nice pictures on social media). To me, dressing up during my holidays is a little more emotional than that. Let's face it, we can't afford to go to Paris or NYC every year; and the only thing we have left to savor after our trip is our photos. Beautiful images can transport us back to a certain time and place, where the emotions run so vividly... Imagine looking at a photo of you in a poofy tulle skirt with Eiffel Tower behind you, versus you in a baggy tee and jeans with the same magnificent backdrop-- which one tugs at your heart strings more?
Also, wearing a pretty outfit suited to a particular destination really puts you in the mood of your travel adventures. Using the same example of the tulle skirt, imagine swishing your way down the cobbled pathways of Paris, while buskers play "La Envie Rose" in the background... This kind of moments make you feel ALIVE and BLESSED to be right at that spot, right at that moment. :) Or imagine wearing an oriental-inspired dress while weaving in and out the corners of Forbidden City-- I guarantee you that you will feel so much connected to the rich culture and history that is surrounding you.
That, is the power of dressing up. :)
TO START
The first step of planning your holiday outfits is a step you have to take irregardless-- planning your travel itinerary. Ideally, your itinerary will include sites and places you want to see, as well as any restaurants/ cafes that you want to try. Chances are, you will probably do some research on these places, and hence have a good idea of how they look (along with other details such as weather, activities (e.g. hiking will require certain gears).
With the knowledge of your destination spots (and how they look like), here are some tips to ensure breezy planning of your travel OOTD:
1) Match your environment
This is fairly straightforward-- just match the color of your outfit to the color of the destination spot. Somehow, monochrome images look really striking!
One of my favorite pictures from NYC.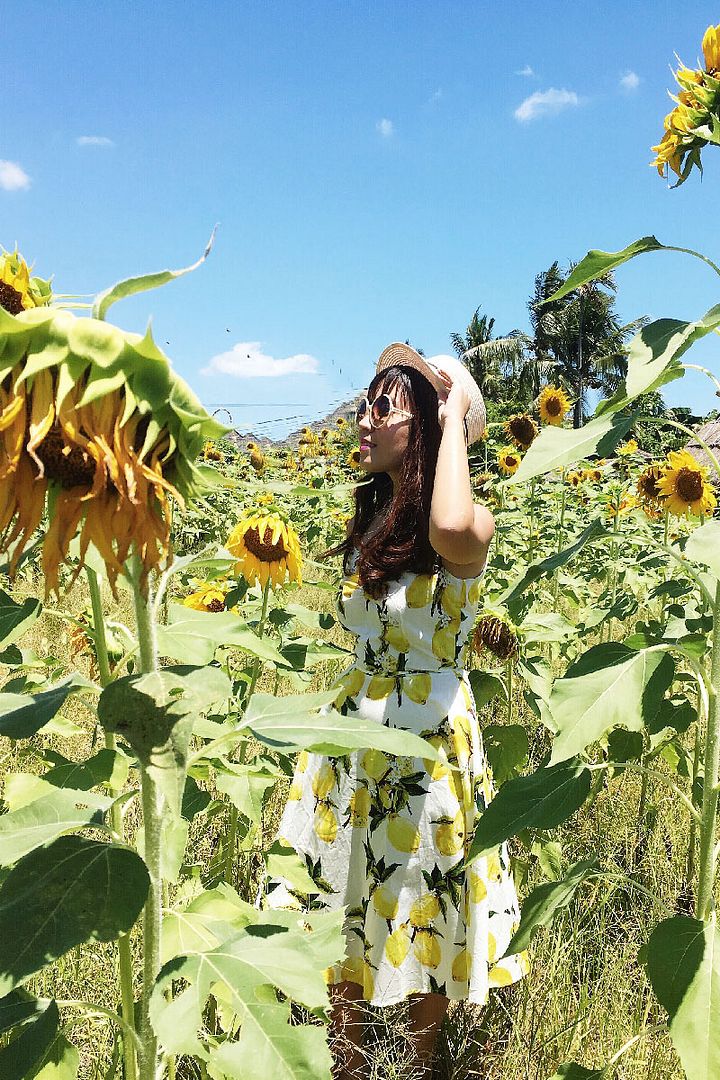 Bali.
Shop similar lemon print dress here.
You don't necessarily have to buy a new outfit just to match your surroundings, but if you happen to own/ have brought along something that can match a particular spot, it may be worthwhile to wear it during your visit! :)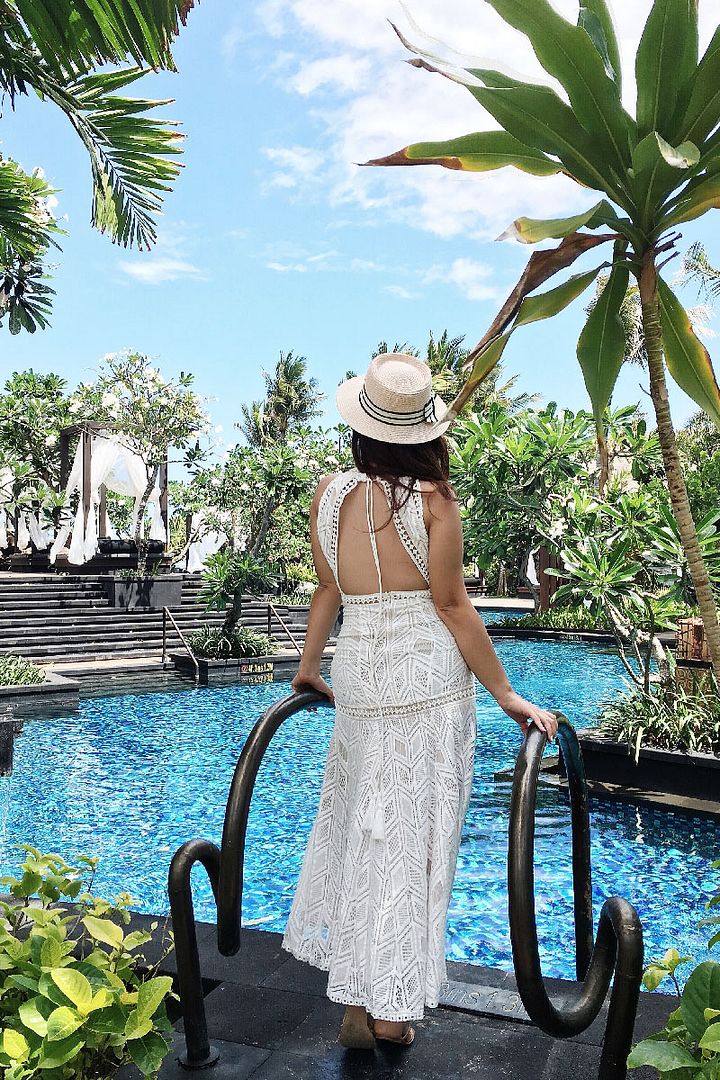 Bali.
Backless crochet lace dress from AZORIAS.
Green and blue destinations (think Santorini or beach destinations in general) generally go really well with blue, green and white outfits.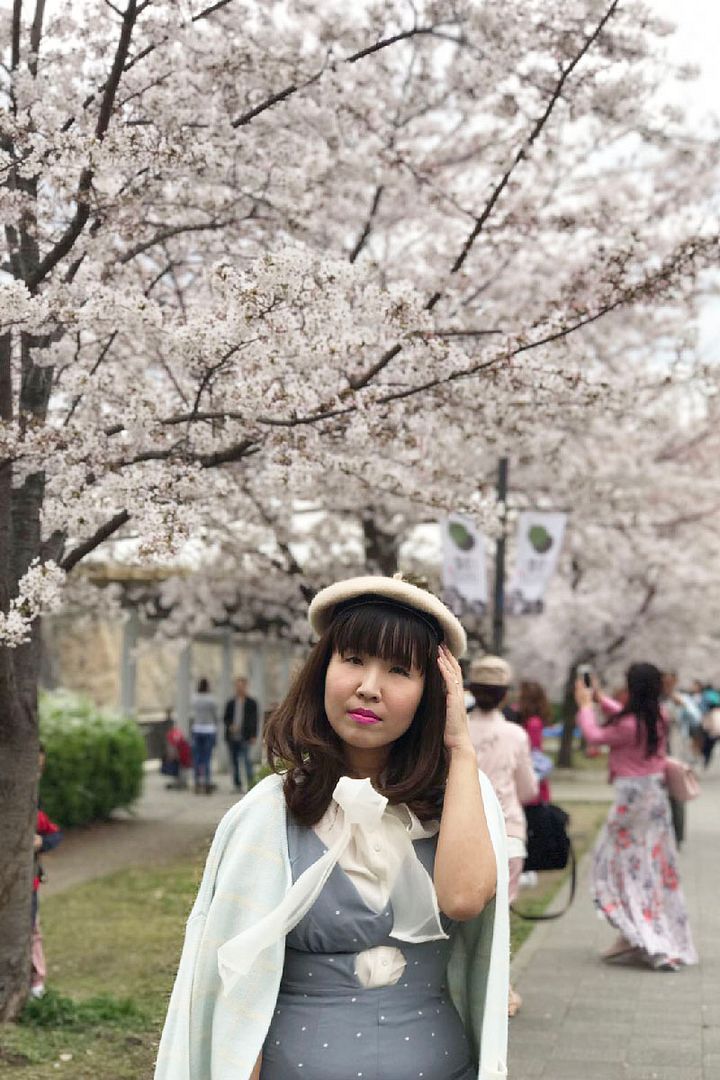 Osaka.
Also, you don't have to wear the exact same color. Wearing colors of the same family will work too! I went to Japan recently during hanami season, and brought along some pastel outfits to complement the pink surroundings. :)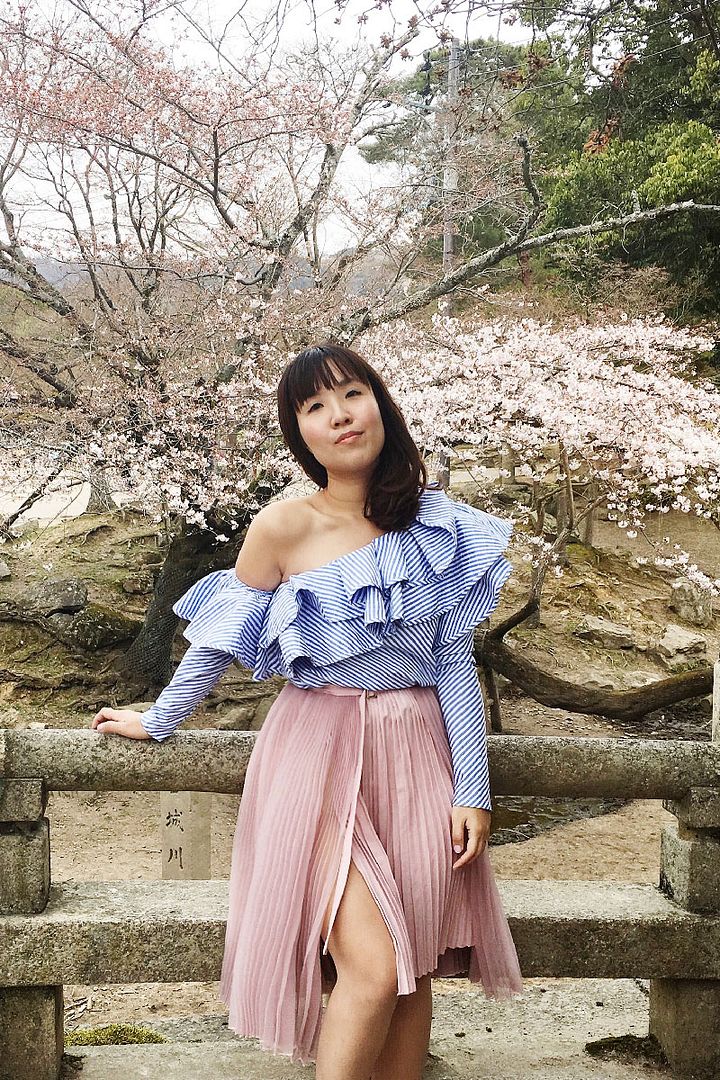 Ruffled toga blouse from AZORIAS.
2) Contrast with your environment
It may not be possible to match your environment all the time, so you can consider to CONTRAST with it!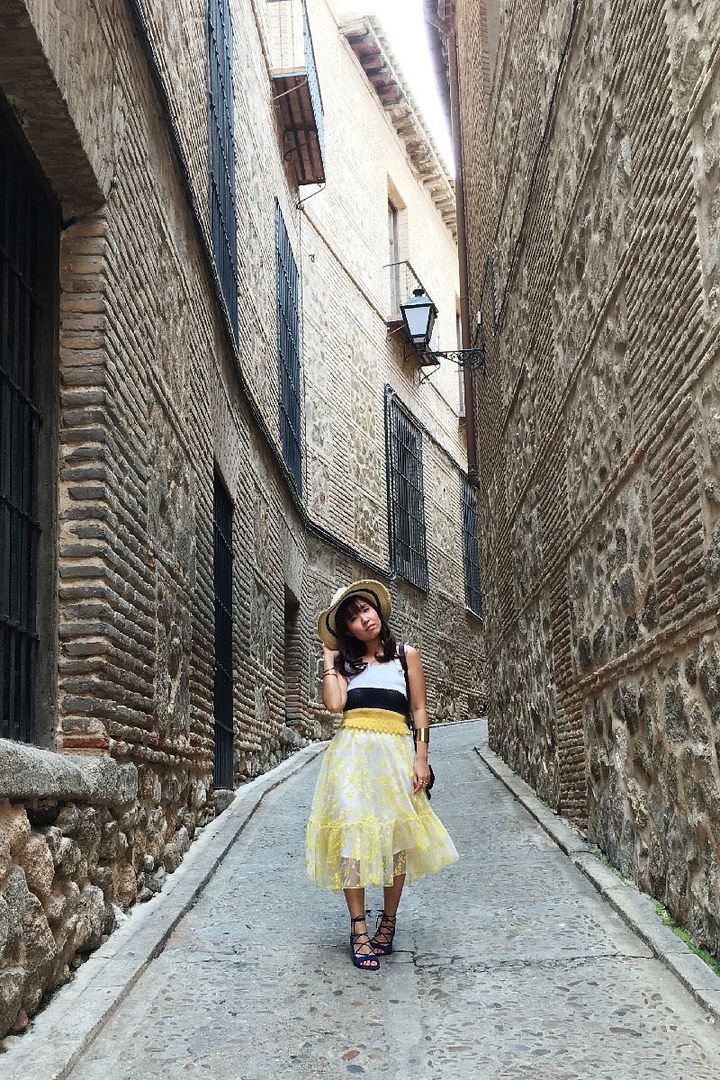 In Toledo, Spain. Wearing bright yellow against brown bricks make the photo pop more. :)
Conversely, if your backdrop is very bright in color, you can wear something dark to contrast against it: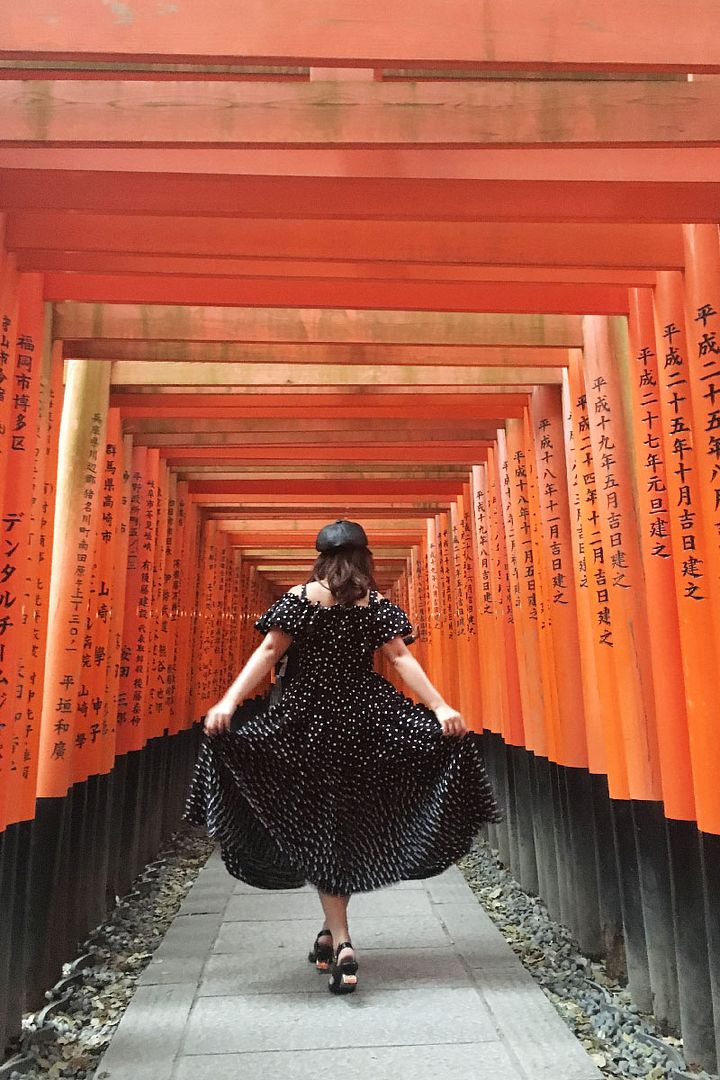 Wearing black in Fushimi Inari, Osaka recently.
For backdrops which are very chaotic and "noisy"-- just imagine cities like Hong Kong and Shibuya, you can consider to clash with prints:
Print on print against Dotonburi, Osaka.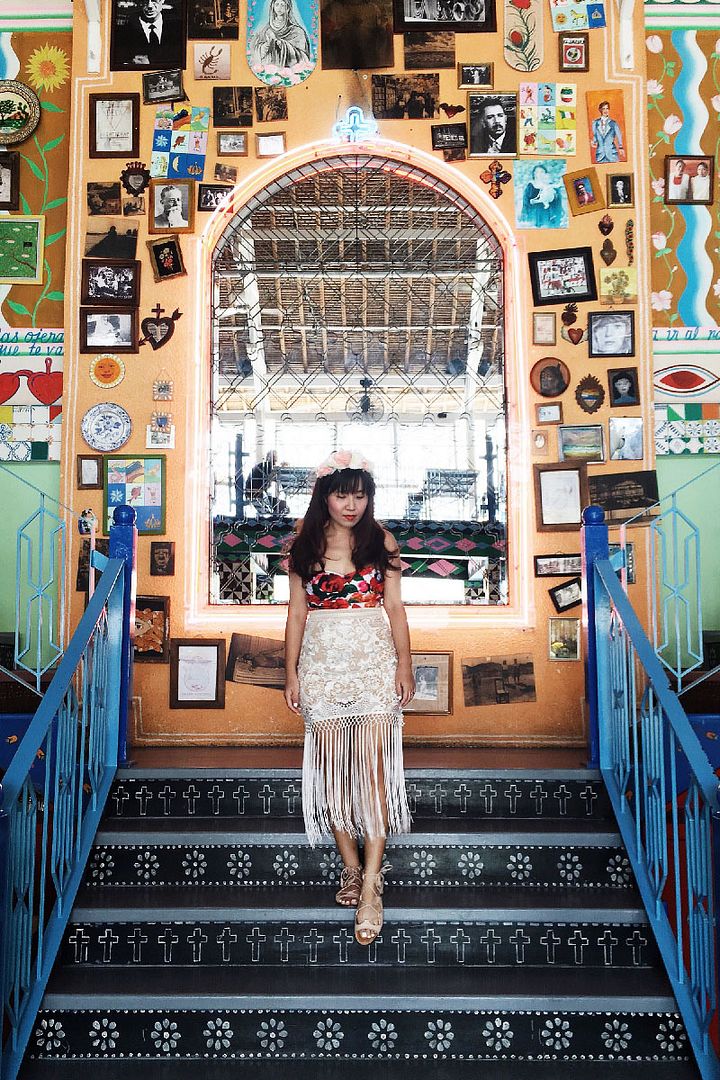 Bali.
Baroque crochet lace fringed skirt from AZORIAS.
3) Adopt the fashion of the country
Different countries have different styles and fashions trends, and it will make you feel like part of their culture if you dress like one of them.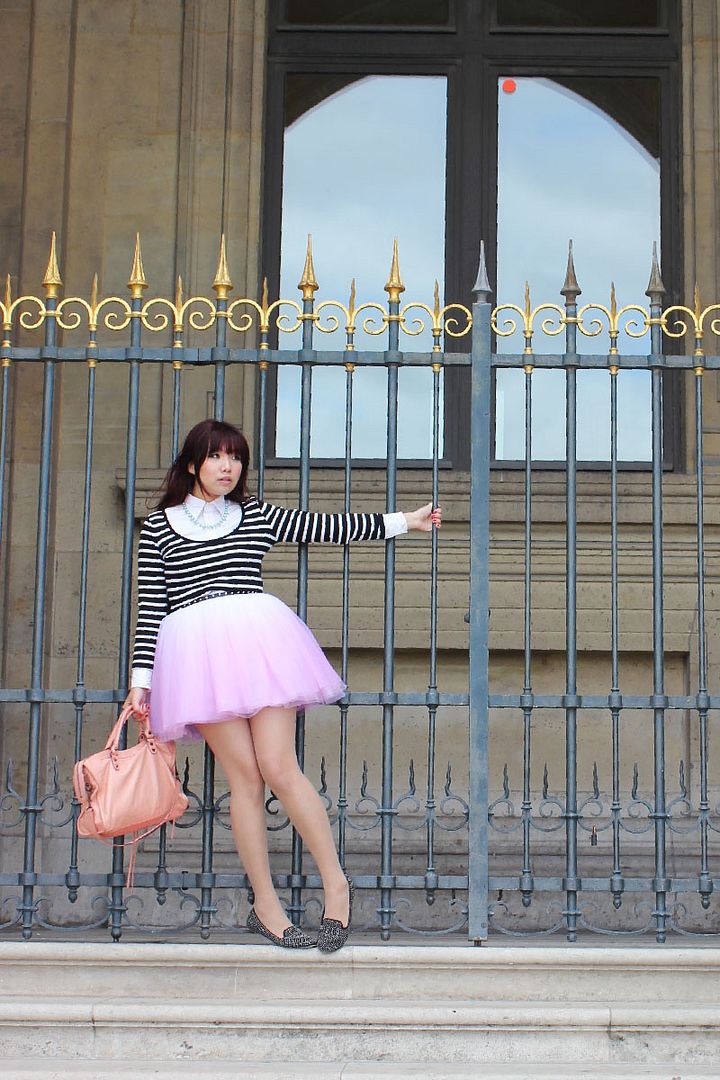 For example, I always think of stripes when I think of Paris, as demonstrated by Jing here.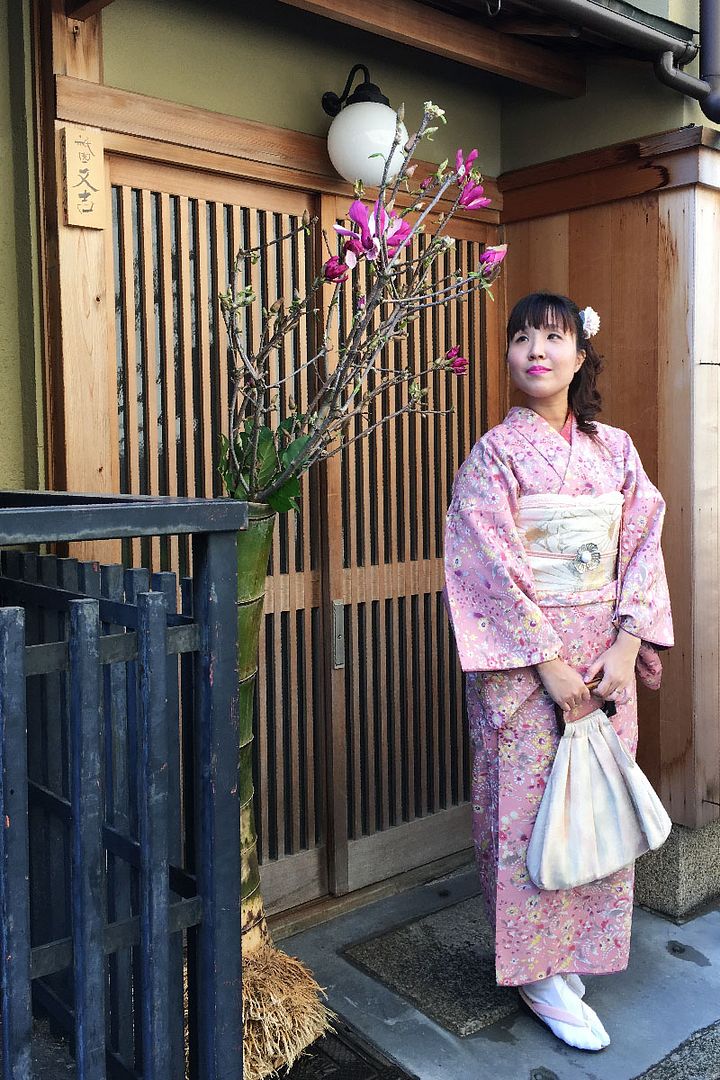 You can also go the extra mile and don the traditional costume HAHA.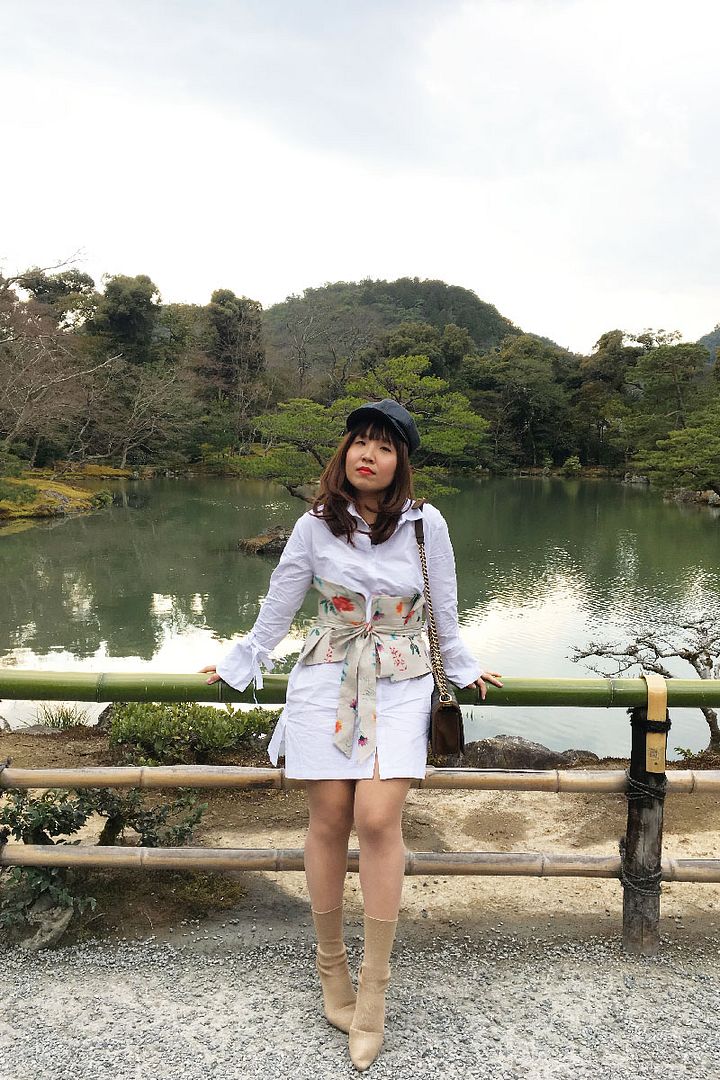 Or maybe something less drastic... ;) For instance, I wore a obi belt to Japan recently-- paying a subtle homage to the country, but yet still dressing in my own style. :)
There are tonnes of style inspiration we can get from different countries, so get inspired! For example, for Harajuku, Japan, you can go crazy and clash prints and colors. For Paris...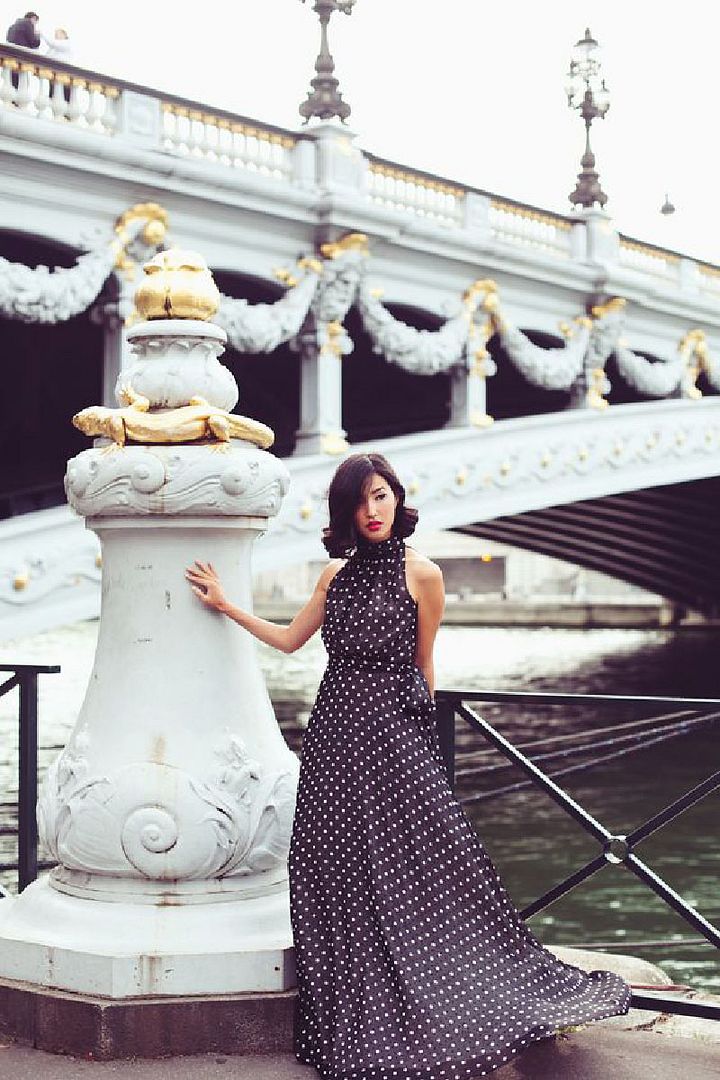 ...I think of polka-dots...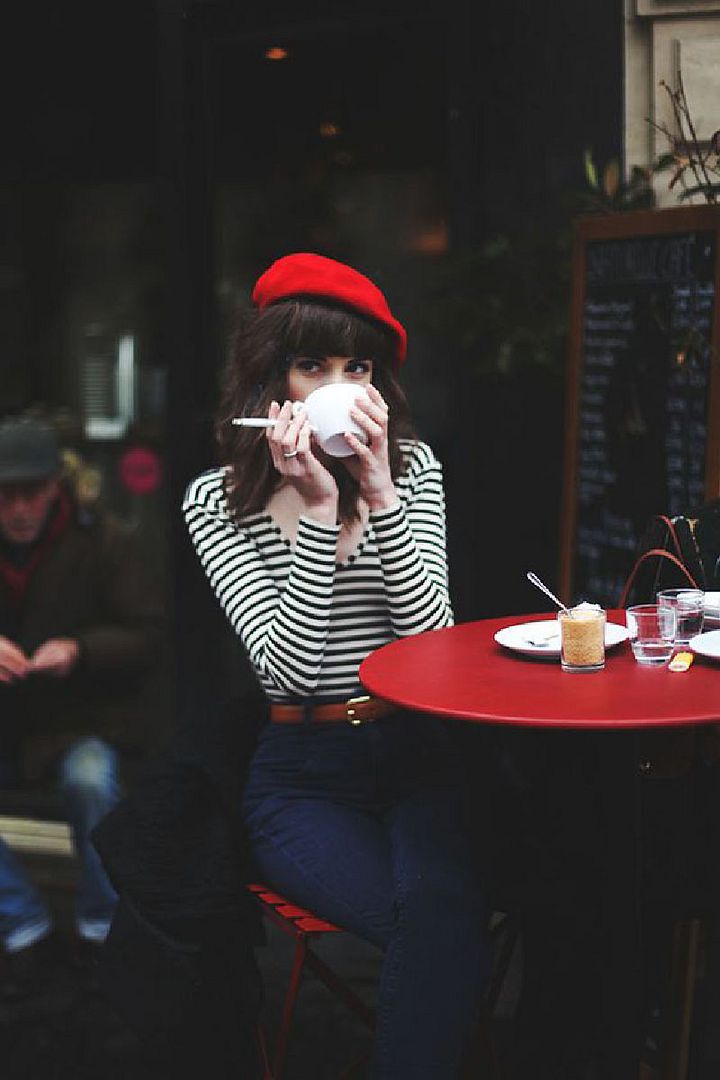 ... and stripes...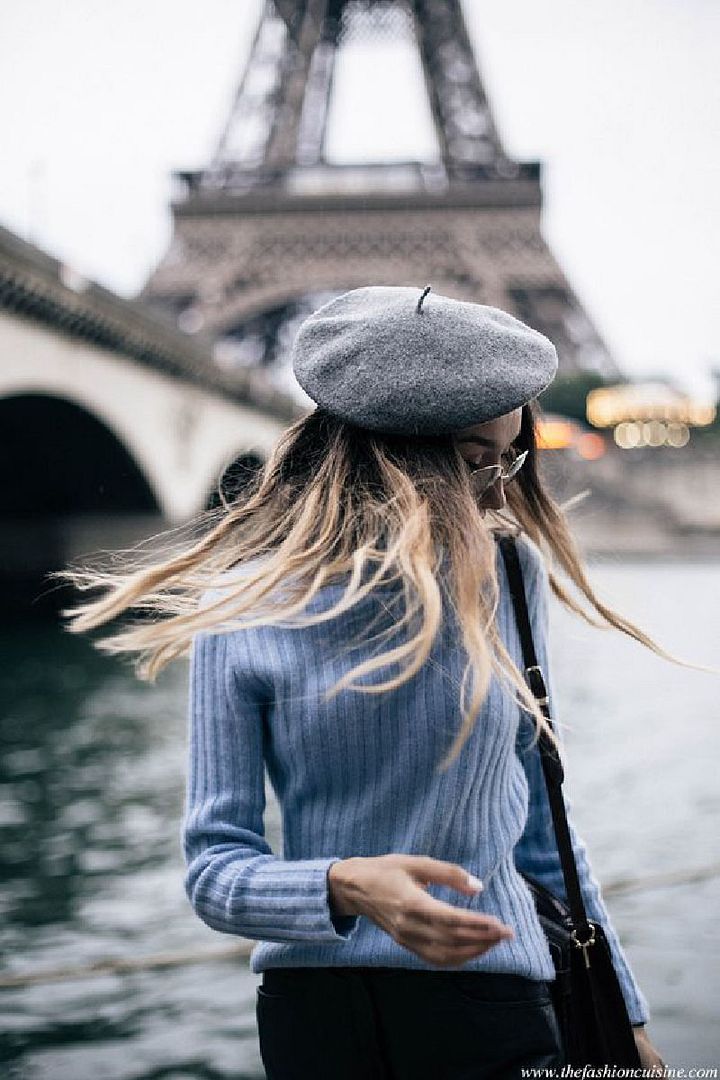 ... and berets!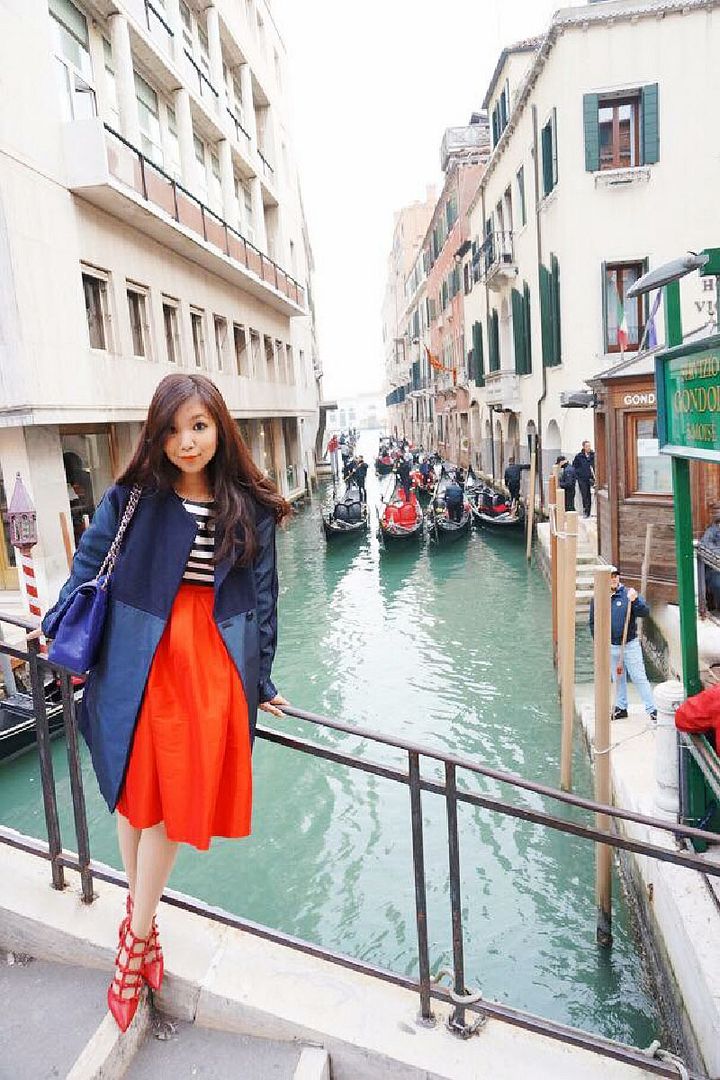 Be inspired by the gondoliers, and wear stripes in Venice, Italy!
Jing is wearing Ruby red midi full skirt from AZORIAS.
4) When in doubt, wear red
I realized that most of my absolute favorite travel photos are of me in red!
NYC.
Email customerservice@azorias.com to pre-order this dress.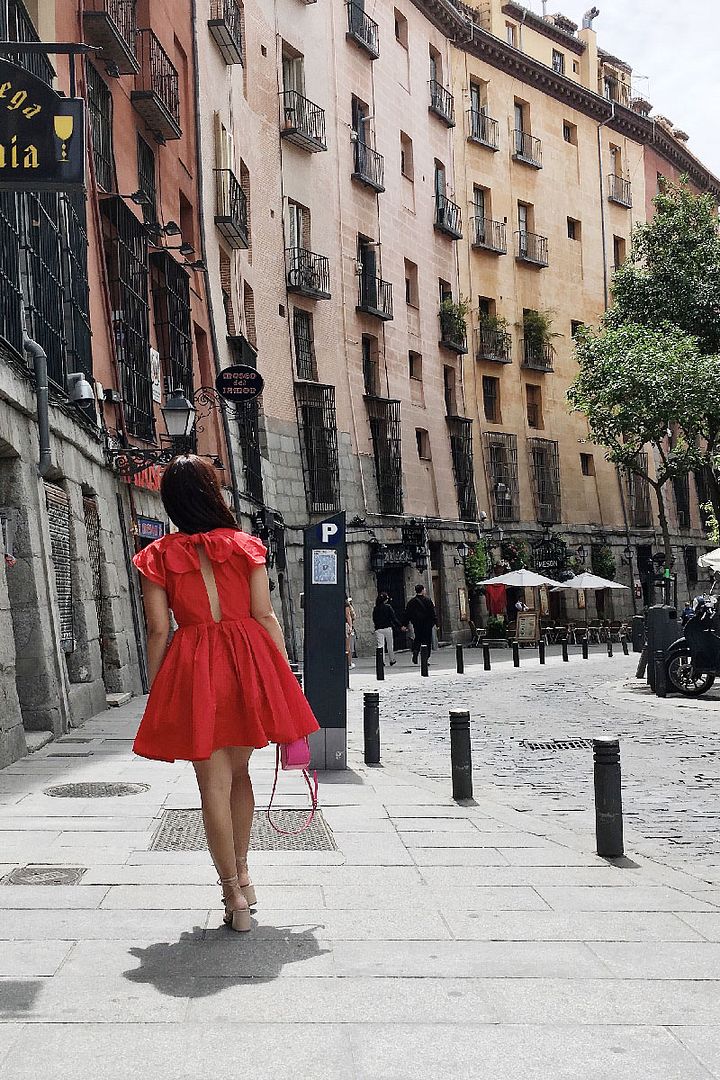 Madrid, Spain.
Dramatic bow-back dress from AZORIAS.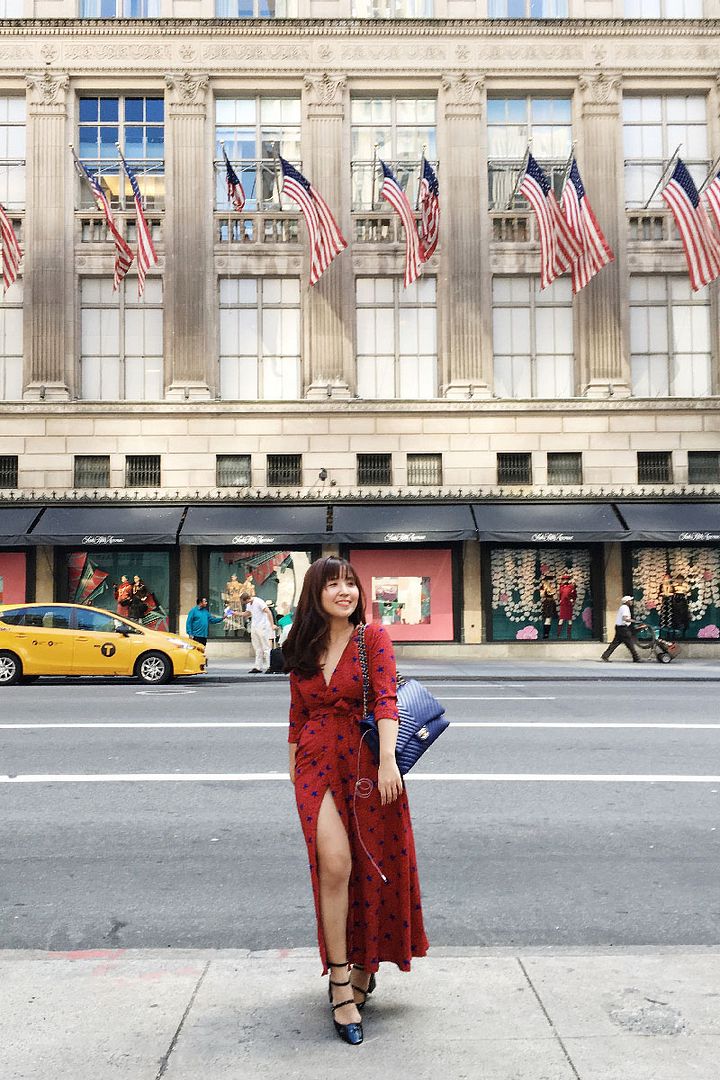 NYC. This is also an example of getting inspired by the country-- the red and blue star print really reinforces the fact that I was going to U-S-A!
There is just something about red that is so dramatic and eye-catching, and really make your travel photos extra memorable. :) If you don't believe me, please check out one of my favorite fashion bloggers, Gary Pepper Girl: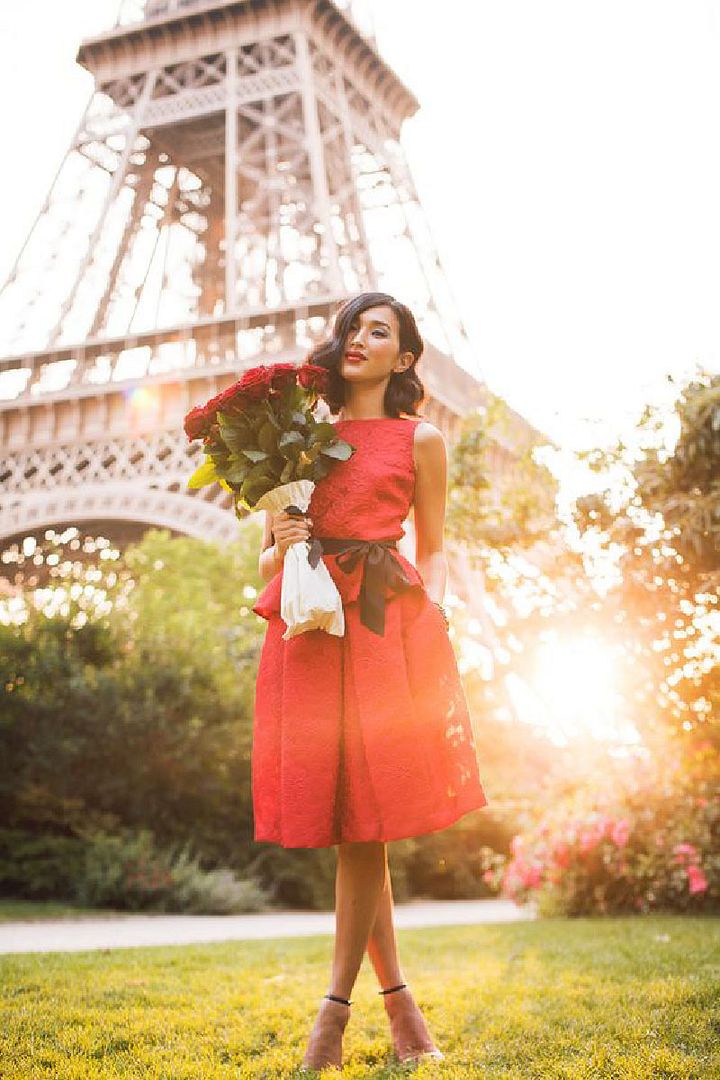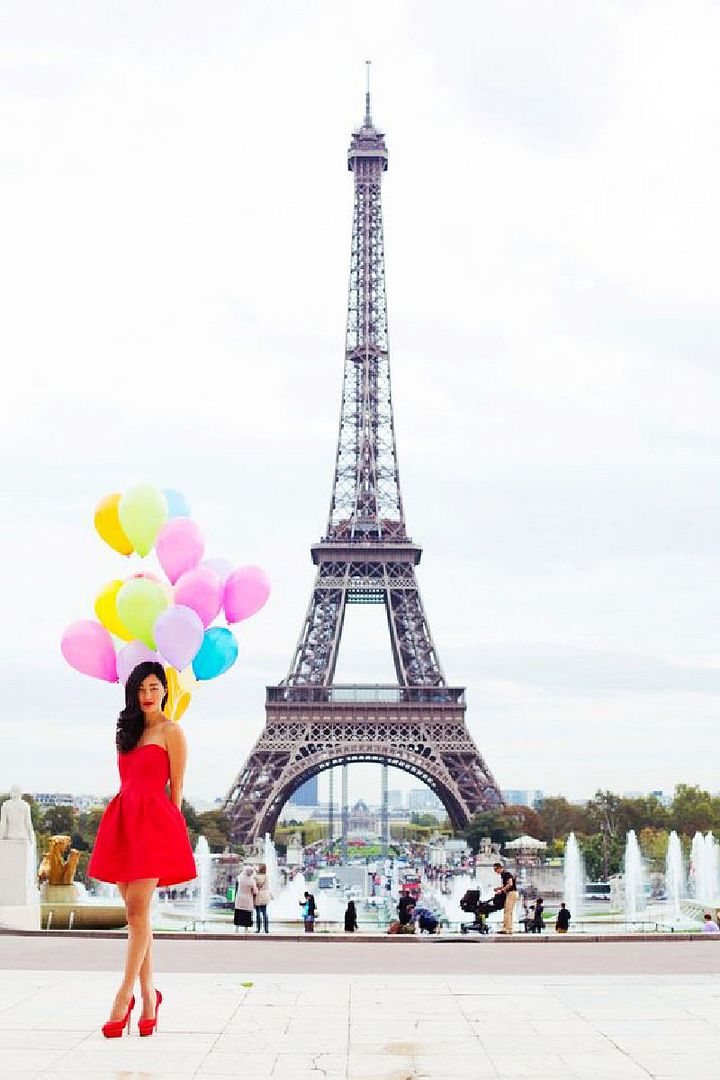 (I used Gary Pepper Girl in a lot of the example photos because her style is really simple, and I want to show that even very simple dressing (in the right colors) can make a huge impact.)
5) Stick to black and white
If you are not into colors, and prefer good ol' black and white; fret not, because they work really well for travels too!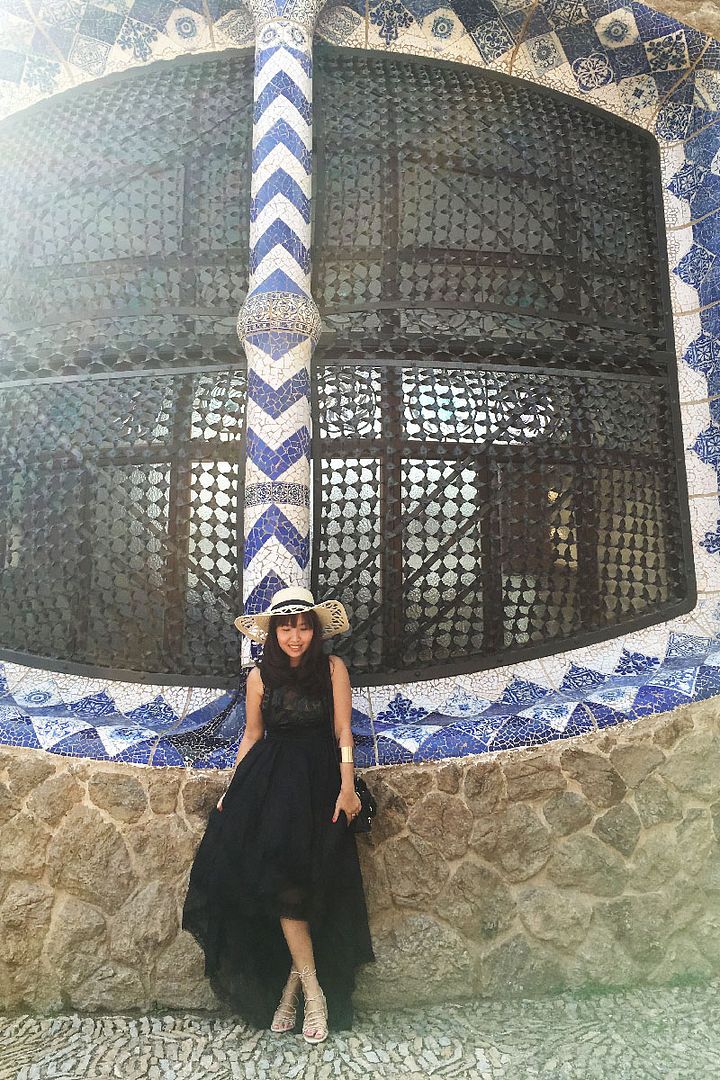 Barcelona, Spain.
Organza layered skirt dress from AZORIAS.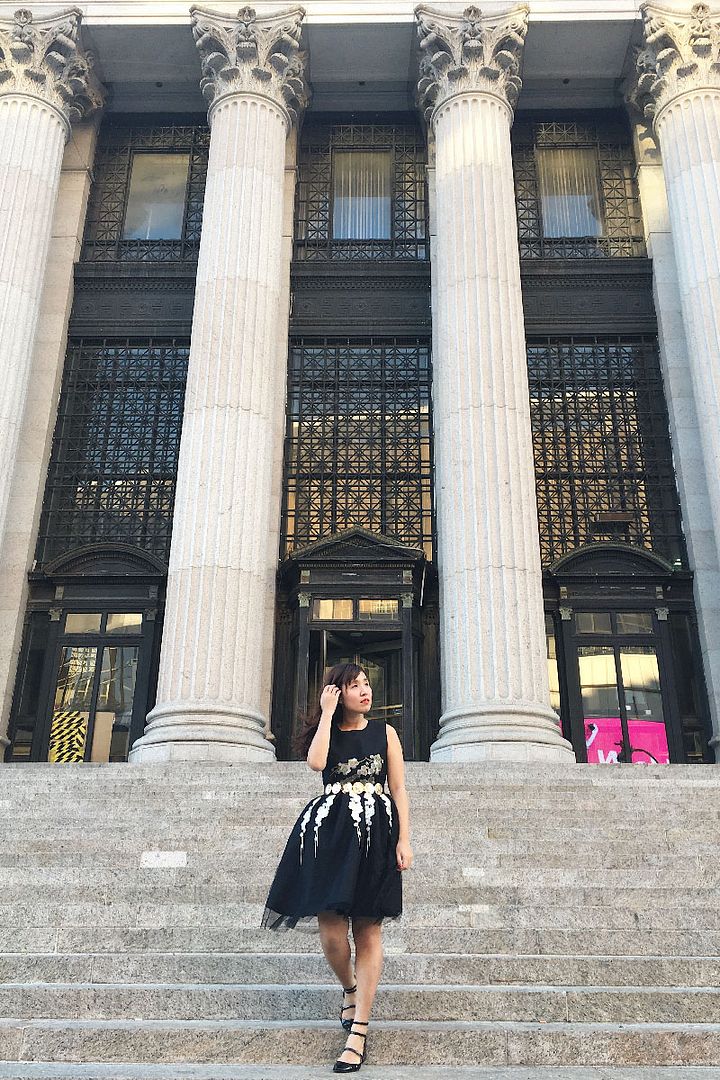 NYC.
Sakura embroidered tulle dress from AZORIAS.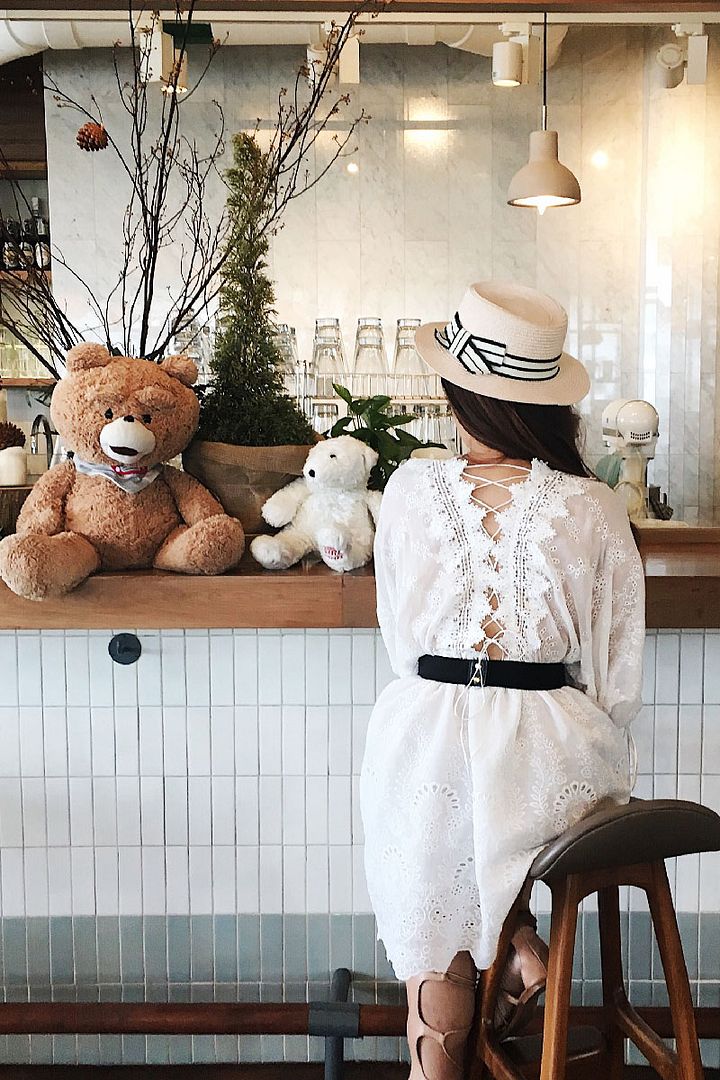 Bangkok, Thailand.
Broderia anglaise dress from AZORIAS.
Bali.
Off-shoulder eyelet dress from AZORIAS.
Again, if you don't believe me, let's look at some other examples (for consistency's sake, I am still using Gary Pepper Girl haha):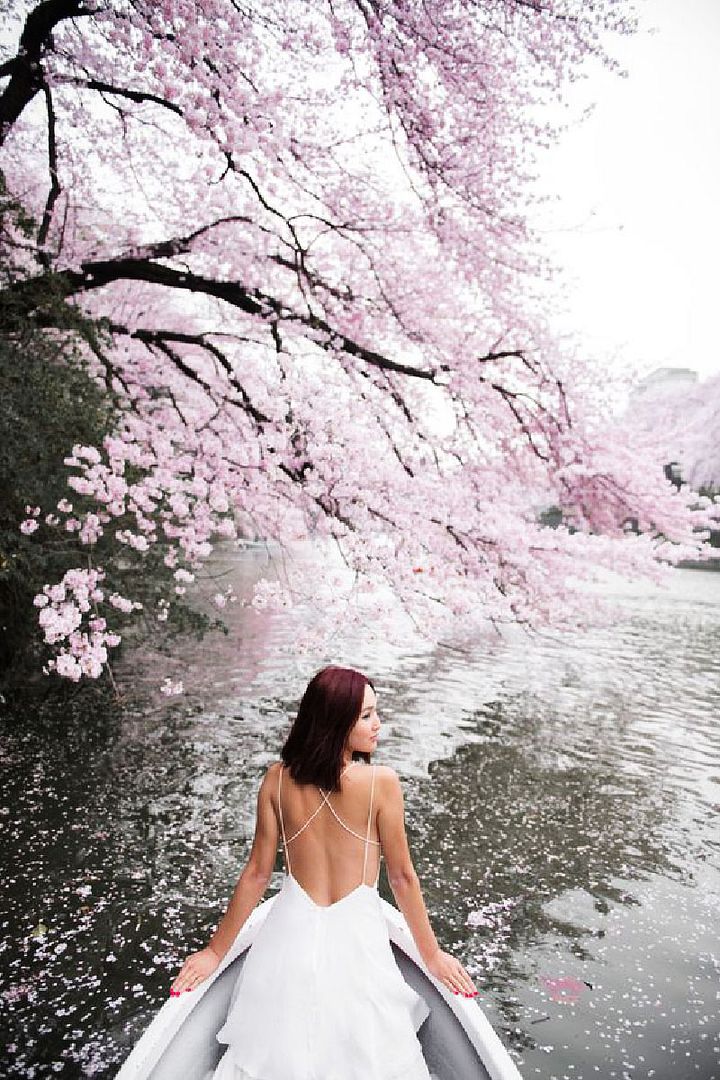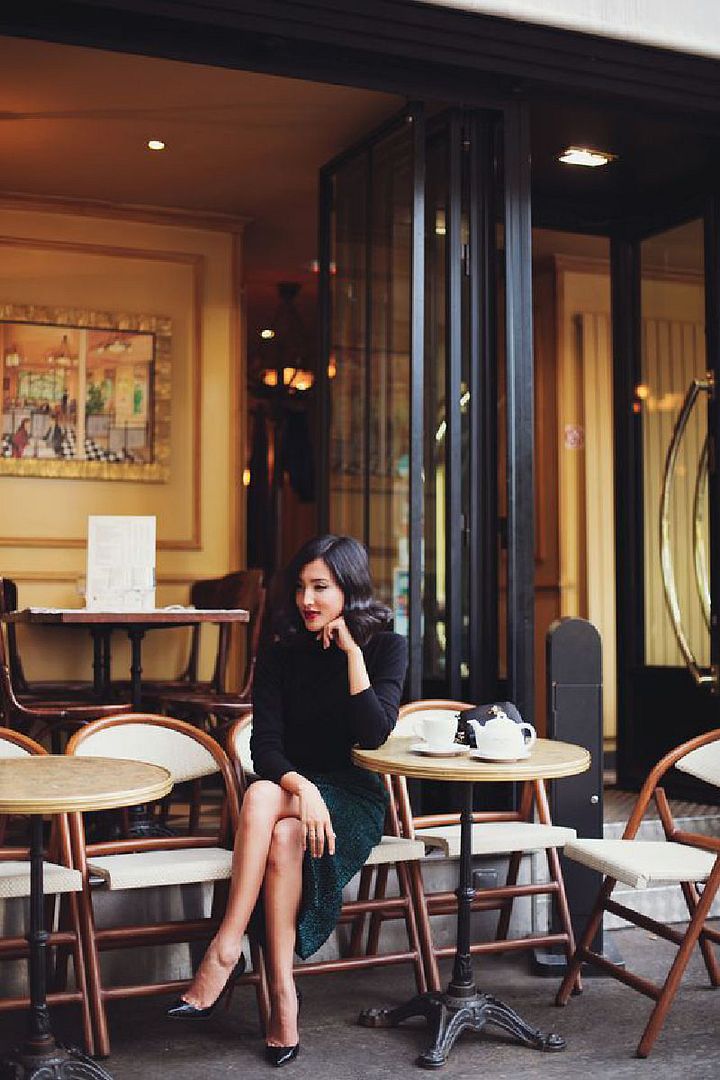 Again, you will notice that even the simplest outfits in solid black and white can make a huge impact in photos. :)
6) Consider culture and climate
Sometimes, we may travel to countries or destinations which are more conservative, for example, Middle-Eastern countries, or even religious sites such as mosques or temples. In this case, it would be respectful to wear something more modest.
Not the best photo, but here is Jing and I at the Vatican City, Rome, whereby it was a requirement to cover up. I had a sleeveless dress underneath, but covered up with a knee-length trenchcoat, whereas Jing wore a long-sleeved top and knee-length skirt, and covered her neckline with a pashmina.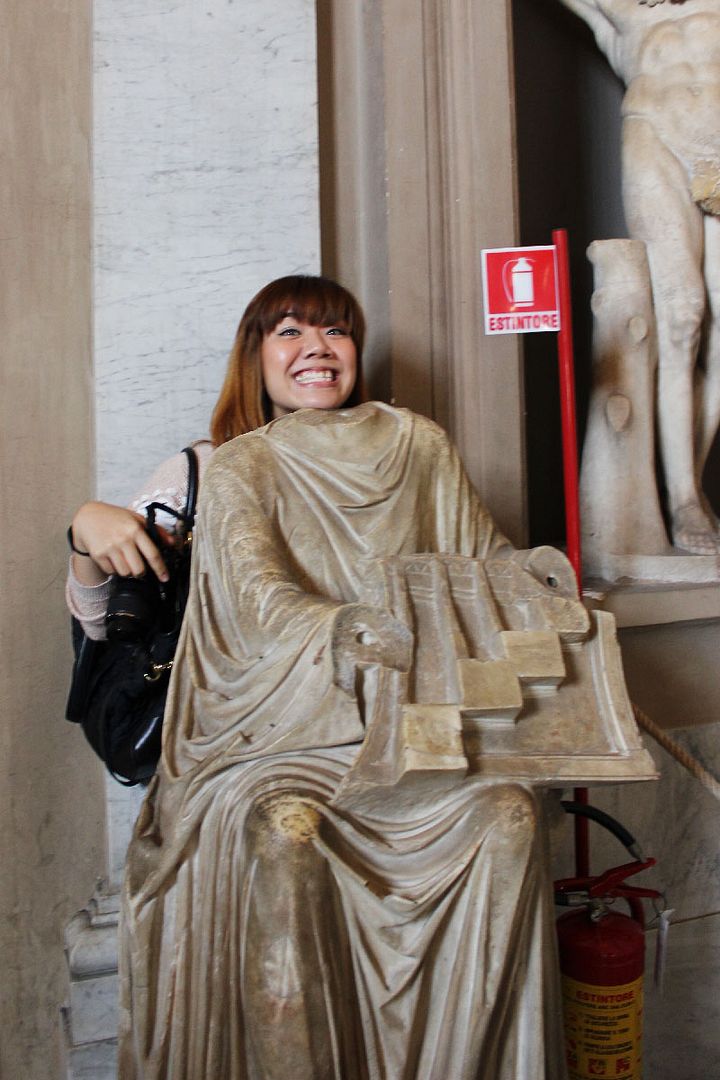 If all else fails, you can always cover up with a statue #OOTD like Teeny HAHAHA.
Another thing to consider is climate/ weather. This means not wearing sweaters to a beach, fur coats during summer, or sandals in cold weather. It may seem like a no-brainer, but it still surprises me to see people wearing knee-high boots in our tropical climate. It may look cool in the magazines, but in our weather, it looks quite silly, and I can imagine, quite uncomfortable.
In fact, there are finer details to consider. For example, don't wear tropical/ Hawaiian prints during winter-- it's not wrong per se, but it does look pretty odd. Avoid straw/ beach hats too during winter! It looks quite funny; a beret or knitted beanie may be a better bet. Fur, even just a little trimmings, also look out of place at a tropical setting. There is no right or wrong to this, but you can use a bit of common sense to make your judgement. :)
Tropical prints look best against a tropical setting, no pun intended.
Waist cutout maxi dress from AZORIAS
.
7) Dress up
Ironically, I tend to dress up even more when I am traveling. It almost feels like an alternate universe when I travel-- with no worries, troubles, and tonnes of adventures ahead-- so I want to dress like I am meant for that. I save my biggest skirts, my most colorful ensembles, craziest accessories for my holidays. :D
Remember, when you are overseas, no one knows you! So you can be even bolder and more creative in your outfits. Just go crazy and have fun!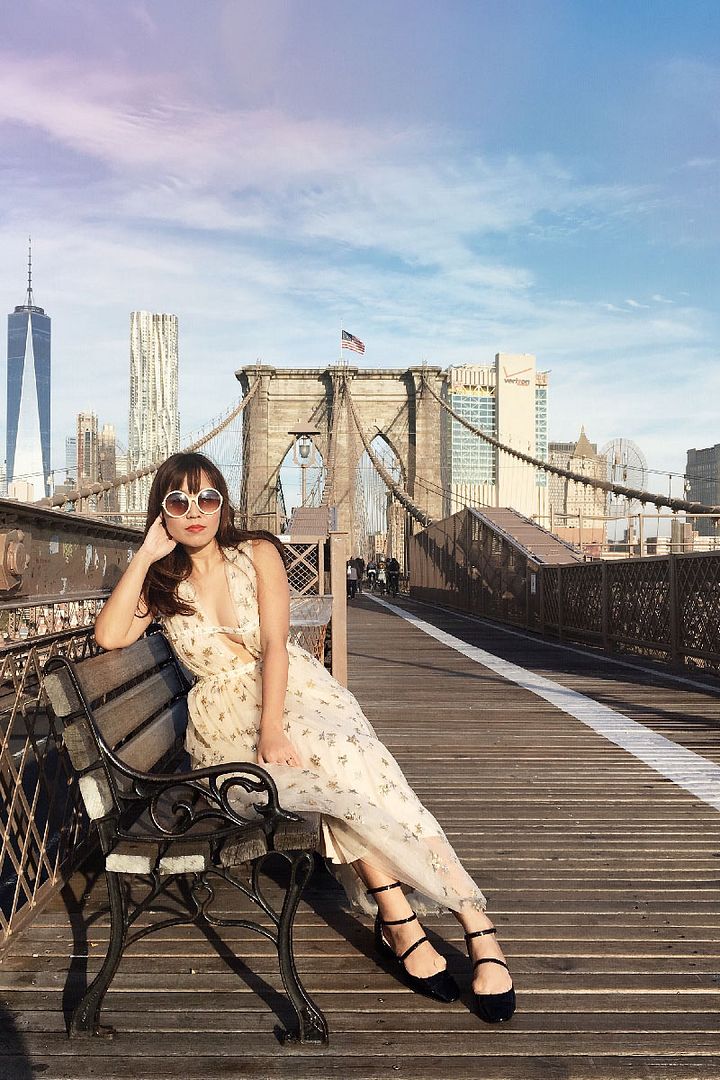 Email customerservice@azorias.com to preorder this dress.
I wore this low V-cut tulle dress with sequined stars all over it in New York recently. Back home, I would probably save this dress for a fancy evening or wedding dinner, but I wore it out for a leisure stroll along Brooklyn Bridge, curious wandering around Brooklyn, and a casual lunch to top it off. But guys, I felt so BEAUTIFUL in this dress. I had pictures of the light streaming through the tulle and bouncing off the sequined stars while I was walking down Brooklyn Bridge, and it looked magical. We found an ornate gold carousel in a glasshouse, and I felt whimsical and playful around it. I received so many compliments from strangers on this day, and I honestly felt like I was on top of the world. When I looked back on this day, it was just filled with good vibes and a happy rush. Fashion is emotional, and I can testify to that. :)
8) Be YOU
Lastly, I remind you to just do and wear whatever you want. If comfort is your jam, then go with the jeans and sneakers! There are still ways to inject some fun into your outfit-- for example, as mentioned above, wearing a beret with your jeans and sneakers in Paris. The above tips are just some guidelines/ suggestions to think out of the box when it comes to your travel outfits. :)
I hope you find this post useful and as much fun as I had writing it! You can drop me any style-related questions (with work, travel, daily, date nights, events etc.), and I will try my best to answer them! :)